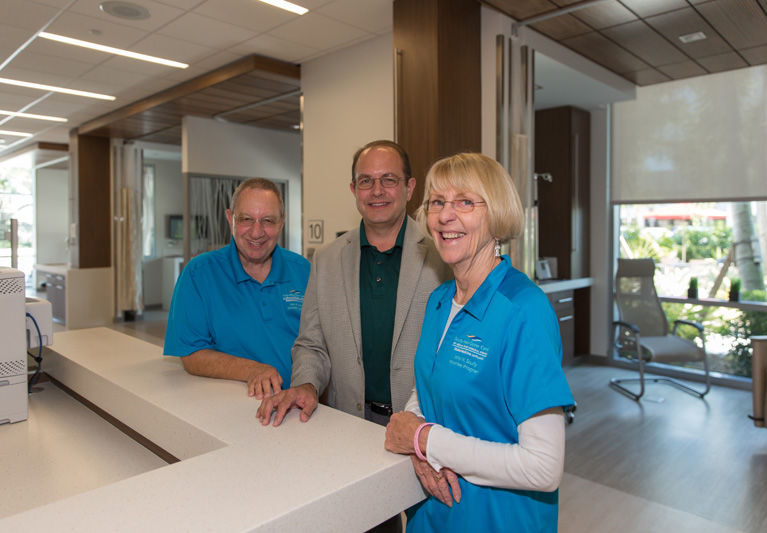 Lori McCormick and Scott Duncan are looking for a very special group of volunteers to help out at Vero Beach's Scully-Welsh Cancer Center.
Cancer survivors.
That's not to say either Administrative Director Duncan or Volunteer Coordinator McCormick would turn their noses up at volunteers who've never been stricken with the disease.
But they do know, as New York's Memorial Sloan Kettering Cancer Center says, "cancer survivors or former caregivers for loved ones with cancer are uniquely qualified to discuss patients' fears about treatment, recovery, life after cancer and other issues because they've been through the experience."
For this reason, recruiting cancer survivors to volunteer and work with cancer patients is becoming more and more popular nationwide.
For example, a collaboration between Free to Breathe and the Cancer Hope Network is actively seeking cancer survivors and what they call "co-survivor family caregivers with positive attitudes, good listening skills and a willingness to put their experiences to work helping current cancer patients deal with the many problems they face."
"The volunteers' main job here at Sully Welsh is to provide comfort and compassion to our patients," says McCormick, making the point that empathy is of great value and importance in helping patients.
"With all of the other assigned tasks [those volunteers] do," McCormick continues, "that's the foremost; that's what they're providing to these patients."
Scully-Welsh opened the doors of its new facility just a few months ago, so the Duke Health-affiliated and American College of Surgeons Commission-accredited facility is building all of its programs – including its volunteer programs – largely from scratch.
Duncan says, "We are running at about 47 volunteers at the cancer center right now." Neither he nor McCormick have set a limit for the number of volunteers they need.
"I'm going to say we have no [specific] goal," explains McCormick, "because in our building phase, we just don't know where we're going to need them, so it would be hard to put a cap on it."
The center has already launched a number of volunteer-driven operations including a pet therapy program bringing well-trained, gentle dogs into the center to visit patients. There is also a fledgling music therapy program. Other undertakings such as art therapy and massage therapy could also evolve depending on the demand and the talents of available volunteers.
At Scully-Welsh, volunteers are asked to run the front desk, work in the infusion and radiation areas and, as McCormick says, "just come sit down and talk with patients."
Those same volunteers also help run a daily Downton Abbey-esque "high tea" service, complete with vintage china teacups and saucers in the center's library.
"It's a time to come together and to take a deep breath and have a cup of tea and relax," McCormick says. "It's really nice. We've had some really good conversations around high tea and the people who do it are also caretakers for our cancer patients."
Duncan, meanwhile, brings up what he calls "oshibori." He explains the Japanese term by saying, "We use hot towels and infuse them with essential oils. We use peppermint for patients who [might be feeling] nauseous. We use lavender for patients who are anxious and we use lemon for cleansing their hands before meals or just to feel fresh."
It is difficult to find ironclad statistical or clinical evidence that pet therapies, aroma therapies, music therapies or a Highclere Castle-style high tea can actually alter the course of someone's cancer, but both McCormick and Duncan are convinced they do help their patients feel better and that's more than good enough for them.
People interested in volunteering, whether they're cancer survivors or not, can call 772-567-4311, extension 1132 or go online and visit: www.indianrivermedicalcenter.com/patients-visitors/volunteer-services .