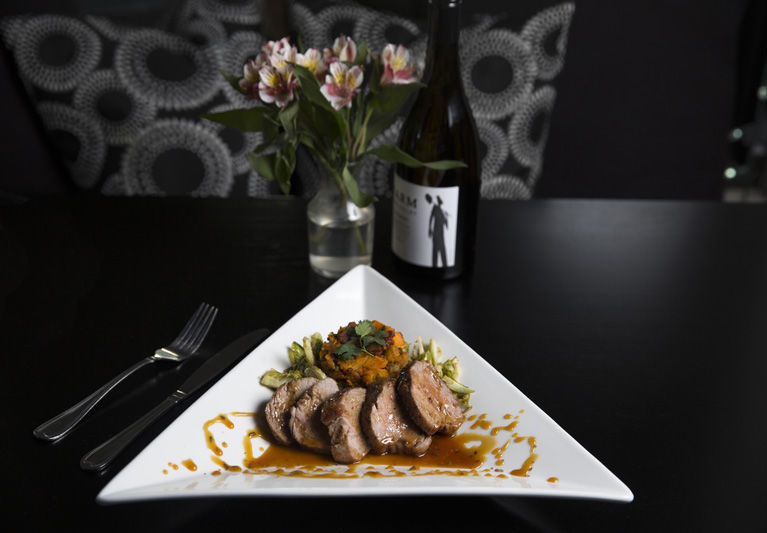 As a growing number of people discovered this past season, there are few more pleasant island places to unwind at day's end than Vinz Wine and Dine in Pelican Plaza.
Whether you stop by for just a glass of wine and a cheese plate, or decide it's a night to dine light on delicious soups and flatbreads, or are in the mood for a full dinner, this casual yet classy spot has something for pretty near everyone.
On previous visits, we have found a musician du jour generally holding forth in one corner of Vinz's intimate quarters. But when we arrived shortly before 7 p.m. last Friday, singer Rebecca McLlvain was performing in the airy atrium outside.
Perfect! We lost no time in agreeing to proprietress Zandra Simm's suggestion that we take full advantage of the delightful spring weather, and dine in Vinz's courtyard.
We decided to start the evening with a bottle of chardonnay, and the bartender proposed a new addition to their wine list he thought we might like – a 2014 Napa chardonnay called FARM ($62). It proved an excellent choice.
For starters, I went with the beet and walnut salad ($8), my husband opted for the evening's special soup ($8) and our companion settled on the black bean soup ($8), a Vinz standby.
The salad, a mix of organic greens and arugula with slices of beets, chevre goat cheese and crunchy candied walnuts, was dressed with a tasty fig balsamic vinaigrette. The black bean soup also got high marks. But the special soup, a creamy cauliflower and gruyere blend, drew raves from my husband.
Then for entrées, I decided to try one of the evening's specials, the pork tenderloin medallions ($27), my husband chose the cedar plank salmon ($30), and our companion picked the other special of the day, pasta tossed with fresh littleneck clams ($25).
The pork medallions in a lavender honey and smoked sea salt glaze were nicely complemented by a sweet potato hash rendered even more tasty by very crispy pieces of country ham. Yum. My husband's maple glazed Coho salmon was grilled to perfection, and was accompanied by sautéed spinach and a roasted tomato risotto.
Our companion's perfectly cooked, black squid ink pasta was tossed with Virginia littleneck clams in a white wine, oregano, basil and olive oil sauce that could have used a speck more seasoning. The dish was accompanied by garlic crostini, which was just as well since Vinz does not serve bread with its meals.
For dessert, I had a fruit cup ($8) – a beautiful selection of fresh mixed berries – and our companion and my husband shared a slice of a very tart Key Lime pie ($8), one of the best around.
A full dinner for two with a couple of glasses of wine can easily hit $100, but if you opt to dine on salads and small plates or flatbreads, your tab is more likely to run in the $70-$80 range.
All in all, the dishes are well prepared – the food on the whole good, not great – and in the going-on-three years since this intimate restaurant opened, it has developed a cadre of regulars who keep it pretty full, inside and out, during season. If you haven't yet discovered Vinz, give it a try at the end of your next stressful day. It is a good place to decompress.
I welcome your comments, and encourage you to send feedback to me at tina@verobeach32963.com.
The reviewer dines anonymously at restaurants at the expense of Vero Beach 32963.