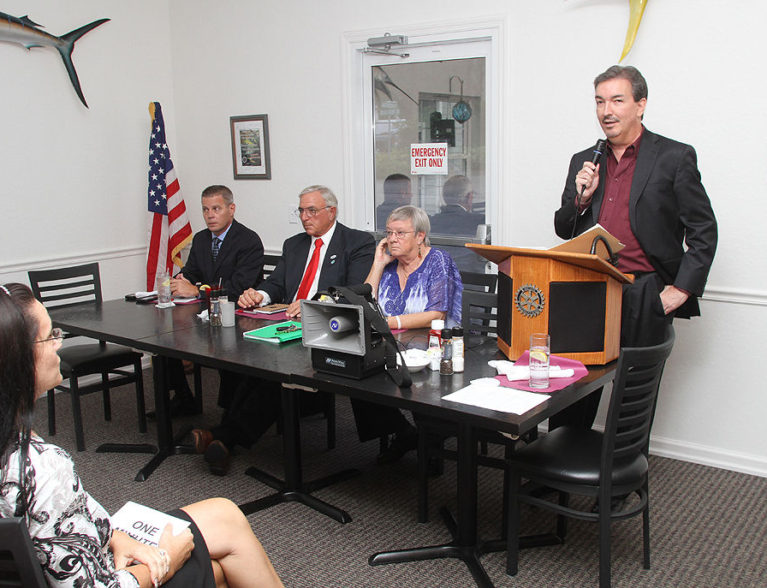 SEBASTIAN — In spite of the midday rain, a big crowd had come to hear the four Sebastian City Council candidates speak at the Taxpayers Association of Indian River County luncheon Wednesday, at Capt. Butchers.
Ironically, the candidate virtually everyone, including the other three candidates, were especially keen to hear – Damien Gilliams – was absent and without a surrogate.
Had Gilliams not thrown his hat into the ring as the fourth candidate, there would not even be a Sebastian City election. Until he qualified, there were three open seats and three incumbents running – Andrea Coy, Richard Gillmor and Bob McPartlan – thus an election would not have been required.
It was, according to forum moderator and Taxpayers Association President John Kistler, the first time the annual event did not have 100 percent candidate attendance. He apologized, telling the audience Gilliams had indicated that either he or a surrogate would be present, and it wasn't until almost 10 o'clock the night before, that Gilliams reported neither he nor his substitute could attend. No explanation was given as to why he was unable to attend and attempts to reach him later that day were unsuccessful.
A long-time resident and local businessman, Gilliams is known for challenging the status quo and the current "establishment."
McPartlan said he had been looking forward to hearing all the things that were wrong with the Council, in case there were some good, usable ideas for improvement.
Without the challenger, the consensus among the incumbents was "if it's not broken, don't fix it," as the current Council members typically work well with one another and with City staff.
Kistler asked each candidate how he or she would respond to several key city issues including fixing failing seawalls and whether Council members should get City insurance, among other topics.
Coy, addressing the seawalls, told the Taxpayers Association that the Council had a recent study done by an engineering firm contracted by the City shows there are only a handful of properties with critically failing seawalls needing immediate attention, and "We are prepared to do that."
Gillmor said solving the problem requires "unified vision." McPartlan said that if any seawalls were found to be on private property, the City might extend no-interest or low-interest loans to the homeowners.
Two of the candidates, Coy and McPartlan, were in agreement when asked whether or not the Council should have access to City-issued insurance. Gillmor raised the question at the dais earlier this year. The resulting vote was to not pursue insurance, with Gillmor in the minority. McPartlan agreed with Coy, referring to "service above self" and calling it a "back door way to get raise."
Gillmor disagrees. He said he believes theirs is much more than a part-time job and that insurance would be important for someone with a family, who did not already have insurance. Being on Medicare, Gillmor would not take advantage of insurance if it were available, he said.
To hear what each of the candidates said on all the questions asked of them, watch VeroNews.com's videos from the forum. To read more, pick up the next edition of Sebastian River News on Sept. 25.