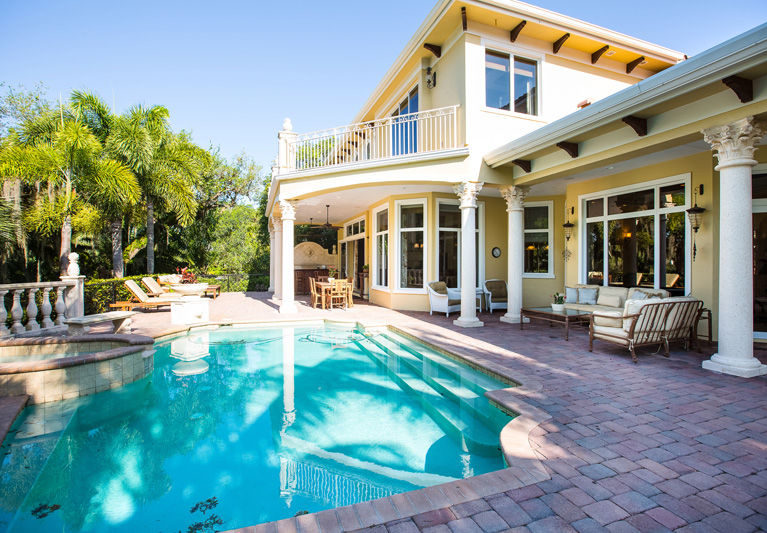 When the owner of the spectacular lakefront home at 101 Shores Drive in The Shores saw what would become her new house, it reminded her of the epic poem, "Evangeline A Tale of Acadie" by Henry Wadsworth Longfellow.
"Near to the bank of the river, o'ershadowed by oaks from whose branches Garlands of Spanish moss and of mystic mistletoe flaunted, such as the Druids cut down with golden hatchets of Yule-tide, stood, secluded and still, the house of the herdsman. A garden, girded it roundabout with a belt of luxuriant blossoms ….."
While touring the house, the poem that had resonated so deeply with Anita Astrachan for years came to mind, and she decided 101 Shores Drive had to become hers.
"This is the view that I saw which the poem describes," she said, pointing out a large window at lovely oaks and a lake while standing in the family room, 25 feet high, and prominently showcasing a handsome marble staircase – another striking feature of the 4 bedroom, 4.5 bath house.
Astrachan was immediately drawn to the Mediterranean-style house for more than just its surroundings. Adorned with fine features and finishes at every turn, volume ceilings and having a free-flowing floor plan covering 4,436 square feet, it was the ideal home for this local patron of the arts and hostess to hold events and fundraisers and more for as many as 150 guests.
"When I saw it, I thought of a Mediterranean villa," she said. "It's very different from what you see in Florida – it's not modern or glitzy, or all of glass. It's a warm, inviting and cozy house."
One of her favorite places inside the home is upstairs in the sprawling and open second floor where there's a billiard table, wet and dry bar, seating area, 2 bedrooms and 2 bathrooms. From that second story perch, she enjoys reading by natural light on the balcony with beautiful things to look at and listen to – Longfellow's Spanish moss hanging from oak trees, the peaceful lake beyond and the pleasant sound of the trickling of water coming from the mouths of lions carved into stone fountains in the pool/spa.
"It has a European feel," she said. "It reminds me of a place that would be on one of the big lakes in Germany."
Still, it is time for Astrachan to downsize. The house on a .50 acre lot is currently listed for $1,350,000 with Treasure Coast Sotheby's International Realty. Kimberly Hardin Thorpe and Michael Thorpe are listing agents.
With a passion for theater, she plans to build a home closer to Riverside Theatre, where she is highly involved. Because of her great affinity for the house where she has lived since 2013, she met with the architects who designed the home in 2005, MA Corson & Associates in Stuart, to discuss duplicating it to some degree.
"I want the same house, only smaller and closer to the theater," she beamed.
"This house is a party house," she added, elaborating on several parties she hosted there, including the "South Pacific" wrap party, the final show of the 2013-2014 season at Riverside Theatre.
"I've always made parties….housewarming parties, rebuilding parties….Here, with the pocket doors, guests freely roam in and out from the house, and go up into the balcony."
In terms of livability, she said a big draw for her was the free-flowing floor plan and the fact that it had a second story, with an impressive staircase leading to it. "When I saw the staircase – that was THE moment. Then I saw the view and I couldn't believe it. It was so beautiful."
Admittedly, these days, she enjoys looking at the stairs more than walking them, but that's not a problem. Astrachan installed a 2-person tinted glass encased tubular elevator in the family room, tucked away in the corner.
"It shoots you up," she said with a smile, demonstrating the ease and comfort of it all. "You don't even know it's an elevator. It blends in nicely in the room."
"This house was custom-built," said Kimberly Hardin Thorpe, pointing out the first-floor 15-foot by 21-foot master suite which evokes Tuscany with its lightly burnished walls and burnt sienna-colored ceiling. The bathroom has a jetted spa tub and walk-in shower. "With each room, you are impressed by the finishes and quality of the construction, the Doric columns, beautiful fixtures, mahogany doors, marble staircase, the 12-foot windows with views of the lake and pool, the mahogany doors . . . there was no expense spared."
"It's a house for a person who admires magnificence and enjoys stately finishes."
Indeed, the house has a romantic feeling. The 17-foot by 16-foot living room has 12-foot floor-to-ceiling glass windows with a view of the pool with spa and lake.
The 15-foot by 12-foot dining room offers an easy flow between the gourmet kitchen and the living room.
The 19-foot by 20-foot family room has an impressive fireplace, built-ins, lake views, marble staircase, cathedral ceilings, arched windows and pocket sliders that open to the covered patio and pool/spa. Dark brown palm frond shaped ceiling fans hang from the two-story cathedral ceilings.
The kitchen with nook and views of pool and lake, features a cook top, double wall oven, island and pantry.
There are three guest or children's rooms; an office with grass cloth walls has handsome built-ins for the gentleman's library.
The patio has a covered dining area overlooking the lake, heated saline pool with spa, summer kitchen and fenced area for pets.
The Shores is a gated community in the town of Indian River Shores less than five minutes to the Atlantic Ocean. Indian River Shores was voted the safest towns in Florida in a 2015 study by ValuePenguin.com, a Web site that serves consumers.
"One time I called 911, and I've never seen an ambulance get somewhere so fast in my life!" Astrachan said.