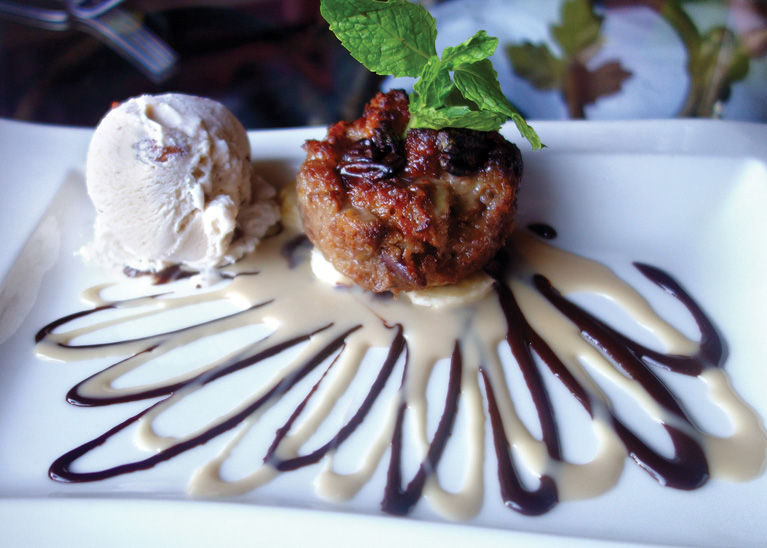 For years, 11 Maple Street, located in a century-old Florida cottage on a side street just off the main thoroughfare in Jensen Beach, has been regarded as arguably the best restaurant on the Treasure Coast.
It's a bit of a drive for dinner from Vero – close to an hour each way either via US 1 or tracing the river down St. Lucie County's narrow, winding Indian River Drive (you don't want to choose the latter after dark if you have been savoring the wines they suggest pairing with each of 11 Maple's dishes).
But a charming old home with antique furniture and lace curtains on the windows seemed like the perfect venue for an Easter dinner. So we made a reservation for this past Sunday, presented ourselves shortly after they opened at 5 pm, and were soon seated in one of several cozy dining rooms (there also is a patio surrounded by gardens).
Owner Mike Perrin, a self-taught chef, has not only developed a large, loyal following over the years for such seldom-seen-locally dishes as spotted skate wing, sturgeon and elk, but has regularly won high marks from Zagat, Florida Trend and other guides.
Our server Heather, whom we recognized from a previous visit, warmly greeted us and presented us with single-page menus. On one side of the menu were 16 "small plates" – dishes ranging from calamari fritters with a spicy Thai salsa ($11.95) up to entrée sized seafood, beef and rib specialties running $24 to $29.
On the flip side of the menu were just four "large plates" – more traditional entrees which on this visit ranged from pan seared Arctic char ($38) to elk ($49) and a 20-ounce ranch ribeye ($58).
We decided on this evening to share a couple of the small plates, and then each go his or her own way with an entrée.
For starters, we ordered the roasted beets atop goat cheese ($13.95) and the sake cured Japanese hamachi – slices of yellowtail amberjack ($14.95).
While the roasted beets paired well with warm goat cheese, and were topped by watercress and a parmesan wafer, the hamachi was a thing of beauty. The slices of amberjack were served in a chili sauce that imparted flavor but only a little kick, and were accompanied by caramelized ginger and slices of pineapple.
For entrées, I decided to go with one of the large plates, a Provencal fish stew ($39), our companion chose the Arctic char, and my husband opted for one of the larger of the small plates, the wood grilled Spanish octopus ($26.95).
My fish stew was a spectacular mix of sea bass, bay scallops, shrimp, little neck clams, Prince Edward Island mussels, and crispy smelts. Topped with a large crostini and aioli, the tasty broth also appeared to have benefited from a dash of licorice-scented Pernod.
Our companion's Arctic char was pan seared to perfection, and was served with conch fried rice, haricots vert, guajillo barbecue sauce and lemon aioli.
My husband's slow-grilled octopus was an extremely tender and tasty rendition of this sea creature, beautifully presented with flavorful shiitake mushrooms from the Pacific Northwest, kabocha squash, and soba noodles in a dashi beurre blanc.
For dessert, we shared a piece of banana cake ($7.95) with a scoop of butter pecan ice cream.
On previous visits, we have enjoyed a variety of other small plates which seem to not be on the current menu – the small-plate menu changes every couple of weeks – as well as what seems a permanent fixture on the large-plate menu, the wood-grilled North American elk tenderloin.
The elk tenderloin when we had it came medium rare, accompanied by roasted faro and butternut squash, with a dried porcini sauce. The taste of farm raised elk is similar to beef. The oak grill imparted a slightly smoky flavor, and the elk was surprisingly moist and tender.
Dinner for two, accompanied by the suggested wine pairings, is likely run about $150 before tip.
The inventiveness of the food coupled with knowledgeable, attentive service in romantic surroundings combine to make dinner at 11 Maple a very pleasant experience.
I welcome your comments, and encourage you to send feedback to me at tina@verobeach32963.com .
The reviewer dines anonymously at restaurants at the expense of Vero Beach 32963.