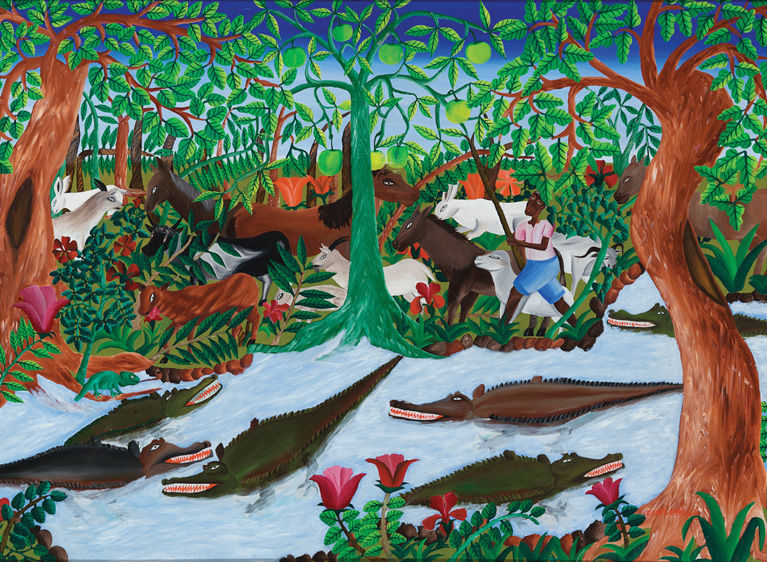 A trip to Haiti's capital from Vero Beach is a little over 800 miles by air, but through Feb. 1, 2015, you can travel to Haiti by car in just minutes. No need to bring a passport; the current exhibition at the Vero Beach Museum of Art, "Restoring the Spirit: Celebrating Haitian Art" will take you on a fascinating tour of the historical, political and spiritual landscape of Haiti.
A traveling exhibition, the show was curated by Rima Girnius from the Haitian collection at the Figge Art Museum in Davenport, IA. It includes 33 oil paintings, five metal sculptures, and two sequined ceremonial vodou flags from the Figge's collection of nearly 200 art works.
Girnius, who is the Figge Art Museum's chief curator, says that her museum's collection of Haitian art was the first of its kind outside Haiti.
When considering Iowa's resources, Haitian art is probably not the first thing that springs to mind. The Figge Museum, whose collections also include American, European, Mexican Colonial and Asian art, became interested in Haitian art because of one influential collector, Dr. Walter E. Nieswanger.
A native of Davenport, Nieswanger first visited Haiti on a winter cruise in 1961. He made his first art purchases during that trip. In 1967 he inaugurated the Figge's Haitian collection with a substantial gift of 19 art works.
What turned a mild-mannered pathologist from Iowa into an avid collector of Haitian art?
"I think he fell in love with the culture," says Girnius.
The Centre d'Art Haitien in Port au Prince also played a role in fostering Nieswanger's relationship with the art and artists of Haiti.
Founded by American artist DeWitt Peters in 1944, the Centre d'Art was part art school, part museum, part commercial art gallery. The self-taught artists who gravitated to it came from the lower social classes, according to Girnius.
DeWitt embraced them. He encouraged them to view their creations as saleable art, and promoted their work to American and European tourists.
"Most of the artists saw the Center of Art as a way of connecting their work to the outside world," says Girnius.
One of the first artists to become associated with the Centre d'Art was Hector Hyppolite (1894-1948).
When DeWitt Peters met Hyppolite, he was painting on doors, using regular house paint. "He used his fingers or chicken feathers to create these works of art," says Girnius.
Hyppolite was also a third-generation vodou priest, and his art is imbued with vodou imagery and symbolism. His work was purchased by Surrealist doyen André Breton during Breton's 1945 visit to Haiti. Breton subsequently wrote about Hyppolite and exhibited his paintings in Europe.
Three paintings by Hyppolite are included in the current exhibition. One of them, a portrait of Florvil Hyppolite (president of Haiti from 1889 to 1896) exemplifies the way in which Hyppolite united historical portraiture with vodou symbolism.
A former soldier, President Hyppolite was feared as a violent and oppressive ruler. As a propitiatory gesture, perhaps, Hector Hyppolite (no relation to Florvil, according to Girnius) surrounded the stern visage of the President with a fanciful, multicolored mass of flowers. Under the bust-length portrait are the blue and red colors of the Haitian flag. Arranged as seen on the national coat of arms, the flags double as wings, elevating the dictator to god-like status.
That, says Girnius, is not far off the mark. The colors red and blue are associated in Haitian culture not only with patriotism, but also with the vodou god of war, Ogoun.
Vodou is a pervasive presence in Haitian art, and many of the artworks in the exhibition acknowledge one or more of the gods in its pantheon.
"A lot of people have negative associations with vodou," says Girnius. "They think of the James Bond films where they cast spells and control zombies. That's not really the case."
Vodou arrived in Haiti with the African slaves that were imported there from Brazil. It is a mixture of West African and Central African belief systems and European Catholicism.
Haitian vodou recognizes a powerful creator god, Bondye. Responsible for regulating the universe and everything in it, he is unknowable by, and distant from, his human creations.
That's where a set of minor gods, the loa, come in. Not only do they intercede on behalf of humankind with Bondye, the loa also act in everyday human affairs. They are intermediaries between the living and their ancestors, between the physical and spiritual.
Different loa are associated with various Catholic saints, perhaps as a way of disguising the loa during times when vodou was officially suppressed.
A major theme in Haitian art is the crucifix. One such example by Serge Jolineau (born in 1952) is a metal wall hanging made of steel cut from oil drums.
"On the one hand it looks like Jesus on the cross flanked by the two thieves, but this is also a representation of the vodou deity Legba, who was the deity of the crossroads," says Girnius.
The cross is Legba's veve, (symbolic representation). The two "thieves" on either side of the figure are water deities.
Legba is associated with St. Peter; the three roosters atop the crucifix refer to Jesus's prophesy to Peter that "this night, before the cock crows, you shall deny me thrice." Like St. Peter, Legba is a gatekeeper. He decides who in this world can have access to the loa in the spirit realm.
Depictions of vodou do not enter into the subject matter of Philomé Obin (1892-1977). Obin lived and worked in Cap Haitien in northern Haiti, where he led a school of art that included his brother Sénèque (1893-1977). Obin's work is characterized by precisely detailed depictions of events in Haitian history. His "U.S. Marines versus Guerrillas" of 1949 deals with the U.S. occupation of Haiti from 1915 to 1934. The picture shows a battle between U.S. Marines and a group of insurgents knows as the Caco (Red Ants). Ambushed on a road between high hedges of tropical greenery, the Americans are trapped like fish in a barrel, with rebels shooting at them from all sides. In the far distance the mountain fortress of The Citadel, an icon of Haiti's independence from the French, presides over the scene.
Scenes of life in a peaceful Haiti include Sénèque Obin's "Marché Fer," a bustling market scene; Gerard Valcin's (c. 1925-1988) "Salle de Hospice," a view of a crowded but orderly hospital ward and Rigaud Benoit's (1911-1986) "Bal du Carnéval" where gaily costumed men and women dance with abandon. Benoit also shows a dignified and moving scene of death in his "Desounen," a depiction of a vodou service held at the bedside of a deceased woman. According to the didactic label for that painting, the ceremony ensures the safe passage of what is believed to be the soul's three parts "to heaven, to Ginen (the ancestral home) and to another living family member, respectively."
One of Girnius's favorite works in the exhibition is "Eternal Flowers" by Yves Michel (born in 1949). This is a representation of the deity Erzulie Dantor (loa of motherhood) and she is depicted in the guise of Our Lady of Częstochowa, a Polish icon also known as the Black Madonna of Częstochowa. The icon is framed by the flowering tendrils that grow from the human head of a sacred drum.
"We as westerners tend to see things as good or evil, black or white," says Girnius, who goes on to say that the fluidity between what seem at first to be mutually exclusive concepts is at the heart of Haitian art.