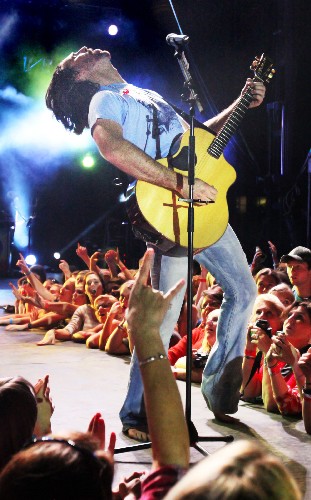 When Ray Roderick came up with the title "The Bikinis" for his musical revue opening Tuesday at Riverside Theatre, he intended it to provoke a two-part response, beyond just tops and bottoms.
In the show, it's the name of a girl band, now grown up and holding a fundraiser for a mobile home resort on the verge of being bought out and developed. To his audience, "The Bikinis" might conjure up beach-blanket blondes with hairbands, twisting to their transistor radios.
To Roderick, though, the swimwear that freed the female midriff did more than provide gawking boys with greater surface area. He sees the bikini as an early volley in the sexual revolution that encouraged women to feel comfortable in their own sensual skin. "It's a double-edged sword," he says.
Whether that stab at seriousness hits its mark, "The Bikinis" is at least a frolic to a great soundtrack. Roderick believes there's plenty to reflect on, particularly in Act 2, when the time line stretches into the worst of the Vietnam war, and the music turns psychedelic and sometimes protest-driven. But by the time the show closes, the reflecting is down to disco's mirrored balls and the 50-something singers going over their lives well sung.
"The Bikinis" opens Riverside's season Oct. 28 and runs through Nov. 16. The theater is offering a "rock-'n'-roll bundle" that offers a discount if patrons buy tickets to both "The Bikinis" and "Memphis," which closes the season in April. Call 772-231-6990.
If anyone ever writes a revue about Vero Beach, it will have to include at least a few Jake Owen tunes, and Saturday night, the homegrown country crossover star will be belting out his tunes at Holman Stadium again. He's be wrapping up his 54-city tour here with the Eighth Annual Jake Owen Foundation Benefit Concert, which supports Indian River County educational causes like the Mardy Fish Foundation, as well as St. Jude's Children's Research Hospital in Memphis.
Owen's latest album, Days of Gold, features the hit single by the same name as well as "Beachin'". And last week, he released "What We Ain't Got," a more serious song he says is his favorite of all he's recorded. "We always want what we ain't got," the song begins. "We ain't happy where we are. There's greener grass in the neighbor's yard, a bigger house and a faster car."
(OK, Jake. But nobody has a cuter baby: Google "Jake Owen takes daughter fishing" from when Jake was here in August celebrating his 33rd birthday with his twin, Jarrod.)
Opening for Jake Saturday night: Cadillac Three, a group Rolling Stone Country tagged for its list of Ten Artists You Need to Know at June's CMA Music Festival in Nashville, noting that "only Cadillac Three were an actual rock band." Their new single, "Party Like You," is a follow up to "The South," a collaboration that included Florida-Georgia Line, which has opened for Owen here in the past. In July, Cadillac Three played at Sonisphere, a heavy-metal music festival in the UK, where the headliner was Metallica.
Tickets for Jake Owen and Cadillac Three start at $25. Call 866-333-7623.
If you don't give a hoot about pop, rock or country, consider this live outdoor concert: the Owl Prowl, Saturday night at Pelican Island National Wildlife Refuge. Kevin Lowry, visitor services director, does his opening act: a brief informal lecture about anatomy and physiology that includes perusing owl droppings, properly known as pellets. "We dissect them and look for the skeletal system of mice or moles. Sometimes we have cool surprises like the skeletal system of a frog!" he says.
And if you're really lucky, you'll find more than one skeleton in a single pellet. "Usually one pellet has one skeletal system," says Lowry. "But sometimes, you'll get a pellet with, say, a shrew skull, a mouse skeleton and a meadow vole." Woo-hoo, as they say in the owl realm. Lowry, who took courses in identifying birds by sound and by sight as part of his wildlife biology major at SUNY Cobleskill, knows how to call certain owls, and often has luck bringing screech owls closer, and a barred owl may fly in, he says. Great horned owls are the largest and among the most common along with barred, barn and screech owls.
"I never tell people we're going to see all the owls. It just depends on the time of the year and the location. Sometimes we don't see any and we don't hear any. Sometimes we don't see them but we hear them. People say 'wise as an owl'? Well, owls are wise: they're cautious."
And even if you miss out on the owls that night, the whole thing is still a hoot. "Seeing owls is just an extra treat. It's taking a hike at nighttime and being out on the refuge trails. It just so quiet. It's a very cool experience."
The group is meeting up at Saturday, Oct. 25 at 8 p.m. (not 7 p.m., as some sites have listed) at the Pelican Island refuge office at 4055 Wildlife Way. That's just north of Windsor and south of Jungle Trail's main entrance.
To reserve a spot on the free Owl Prowl (limited to 16), call 772-581-5557 and choose extension 2. If the Prowl fills up, don't despair: Lowry is hoping to have more during the year.