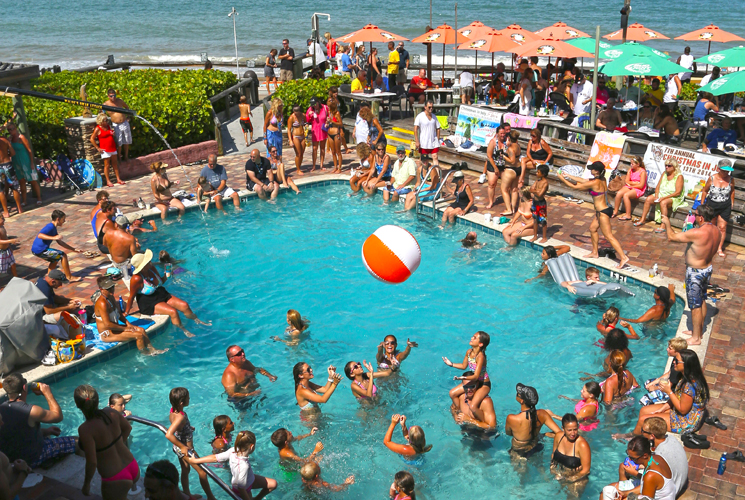 The Christmas spirit was in the air last week – despite that air being hot and humid. Accompanied by Christmas music and visits from Santa, the Christmas in July fundraiser founded by Lee Olsen, manager of Waldo's Restaurant at the Driftwood Resort, expanded its sphere of influence this year and switched to a new beneficiary charity – the Marine Corps League's Toys for Tots of Indian River County Campaign.
Olsten instituted the concept seven years ago as an energized summer kick-off for the Love Doctors Charities Toy Drive. That charity dissolved last year and to keep things in the same vein, Olsen said Toys for Tots was chosen with the added benefit that "it all stays in town this year."
Expanding the event to the other side of the bridge was the idea of Kilted Mermaid owners Rick Norry and Linda Moore.
"Linda and I have been wanting to do some charity events; there are a lot of good charities here," said Norry. "Lee is a really good friend and Linda came up with the idea to make it a Vero Beach charity event and not just a beachside event."
They approached their friends at Blue Agave, The Grove and The Stamp and the Christmas in July Pub Crawl was born.
Matt Rosman, a one-man blues band, was to have joined Santa on the back of a pickup truck as revelers moved from place to place, but rain clouds washed that idea away.
"So, we're going to get all my merry elves and my duck here and we're going to walk it instead," said Norry, decked out in a full Santa outfit. They took along Moore's giant yellow, inflatable duck, and let the water just roll off their backs.
Tim Nightingale, a member of the Marine Corps League 058 in Indian River County and coordinator of Toys for Tots here, said that in December volunteers from the League and other veterans groups are as busy as Santa's elves sorting out all the donations.
John Michael Matthews noted that Toys for Tots has had a presence in Indian River County more than 25 years, adding that drop-off boxes will be put into stores after Thanksgiving.
"The original Toys for Tots logo was drawn by Walt Disney," said Vic Diaz, pointing to the red toy train logo embroidered on his shirt. "And the nice thing is we have a Disney resort in Vero. They participate every year and gather a lot of toys each year. It's been a nice partnership."
As an added incentive during the Pub Crawl, JJ Taylor with New Belgium Brewery was giving away a free beer for every duck chance purchased. Southern Eagle, Southern Wine and Spirits, and Malibu Rum sponsored Sunday's event.
The Duck Off portion of the fundraiser was created last year to replace a prior golf-course ball-drop. Chances on 1,000 yellow rubber duckies were sold at $10 each, and on Sunday afternoon at Waldo's they were shot into the pool by a water canon mounted atop the pool house, with winners netted by a pool scoop.
Olsen said that all the money and toys, with one exception, would benefit Toys for Tots.
"Whatever stuffed animals we get are bagged and split between the Vero Beach Police Department, the Sheriff's Office and the Florida Highway Patrol. Patrol cars always have stuffed animals in their trunk in case they find a child in distress. They find it comforts the children. It's a little secret thing that they all have stuffed animals in their cars."
The party moved on Saturday to Blue Star Wine Bar where owner Kitty Wagner hosted a Christmas in July Eve party, and on Sunday, a sweat-glistened crowd continued its all-day Christmas in July revelry at Waldo's, with a motorcycle poker run, auctions and live entertainment.