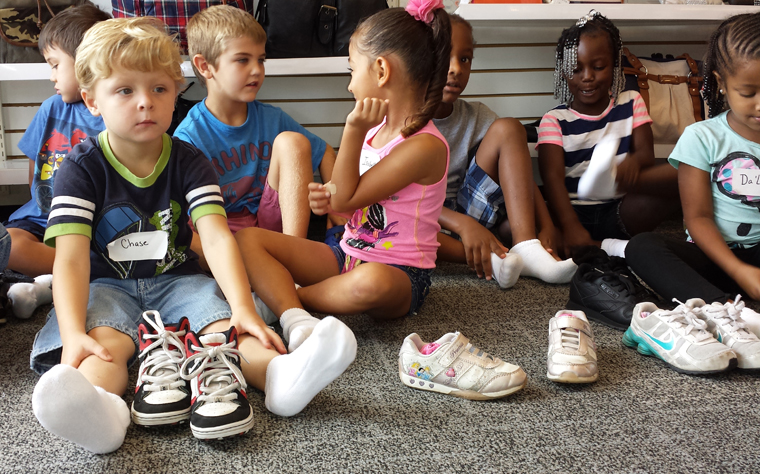 "Twenty dollars can change a child's life," says Trudie Rainone, the ardent force behind a funding initiative called Happy Feet.
Twenty dollars enables a student in need to start off on the right foot with a new pair of sneakers and socks through the Education Foundation of Indian River County Sneaker Exchange Program.
"Averaging everything out is where we get that $20," Rainone explains. "Some shoes on sale may be $10 and others $28."
Shoes are purchased at Payless ShoeSource, which provides good quality brands in a myriad of styles and colors at a discount, plus an annual grant through its Payless Gives Shoes 4 Kids program. An added bonus is that while the inventory is expansive, the store is small enough that teachers and volunteers can keep an eye on their eager little charges while they are "shopping.".
Participants are identified through the School District's Free and Reduced Lunch program, which in Indian River County is roughly two-thirds of the student population.
"In this community, people don't realize how many children need help," says Cynthia Falardeau, executive director of the Education Foundation. "We distribute on average about 2,000 shoes each school year. The children are told it's a gift to them for working hard in school."
The Sneaker Exchange began in 1993 as a Junior League project after a school principal told League members Lee Moore, Kathy Edwards and Lisa Becker that children were coming to school wearing shoes that were quite literally falling apart at the seams.
The program expanded after volunteers from Holy Cross Church, including Rainone, got involved and it was absorbed by the Education Foundation after a 2002 grant from Quail Valley Charities facilitated its expansion into middle and high schools.
"We want to continue it in the summer; that's why we need more funding," says Rainone, who came up with the Happy Feet concept to engage additional donors and volunteers. "Children's feet grow all the time; there's no controlling a child's growth. But we don't have enough funding to do it for 12 months of the year. So with Happy Feet, it will enable us to help the children whose feet are growing in the summertime."
Emphasizing the need, Rainone stresses, "The point is that we live in Vero Beach, where everybody thinks children have the very best of everything. But we have many, many children that are in need. I think if people knew, they would love to help. A lot of people would probably do $20; they can be part of something and do something good and change a child's life for only $20."
The benefits are enormous, even when the sneakers are tiny. And in some cases that's exactly the problem – children are wearing shoes several sizes too small.
"If a child's feet hurt, it's hard for them to focus, to concentrate. If your feet hurt, your whole body hurts," says Rainone. "They don't feel good about themselves. It's very humiliating if they don't have proper shoes on their feet. It's just self-esteem; they don't feel like they're part of the group."
"We had one student who kept missing school and the guidance counselor finally determined the reason was she was sharing a pair of sneakers with her grandmother. And so she could only come to school when the grandmother didn't need the shoes," says Falardeau.
"Another little boy would carry his sneakers to school because he felt that if he wore them out he wouldn't be getting another pair," adds Rainone. "He wanted them to be clean like everybody else's. He lived in Fellsmere and walked through the fields, so he would carry his sneakers."
"One of my favorite thank-you notes was from a middle school girl this past year," says Falardeau. "She has been involved with Sneaker Exchange since she was a little girl, and now is in middle school. She wrote, 'I want you to know the Sneaker Exchange prevented me from being bullied, because I was able to have sneakers that were just as nice and looked just as good as my classmates.' People don't think about things like that."
The organization plans to create gift cards which could be purchased for someone else saying, "You changed a child's life with a gift of Happy Feet." Rainone has underwritten Happy Feet program costs to ensure that all donations benefit children.
"The best part is seeing the children smile. They are elated," Rainone says. "It's like you gave them 100 shoes, not just the one. They come in, we measure their feet and then they can pick out any sneaker they want. Many of the children have never had the luxury of picking out a new pair of shoes. They'll ask in amazement, 'I can pick ANY sneaker?'"
To some, the socks are equally important, such as the young boy who didn't want to take off his shoes because he was wearing girls' socks.
A Quail Valley Charities grant underwrote the cost of sneakers for pre-school children enrolled in the School District's Voluntary Pre-K extended summer program, which was funded by the John's Island Community Service League. Bubbling over with excitement, 27 VPK students gathered at Payless last week and rapidly chose their favorite sneakers, which included lots of sparkles, bright colors and superheroes.
Some clung quietly to the boxes, looking puzzled and unsure if the shoes were truly theirs to keep, while others enthusiastically showed off their prized finds, exclaiming:
"I want to wear these right now!" "I'm Superman!" "These are so cool shoes; they light up!" "My shoes are really fast; it took just one minute to get here!" "This was the best school trip ever!" And Rainone's favorite of the day, "I had such a good time, maybe I'll come back tomorrow."
To volunteer or donate to Happy Feet so that children can put their best foot forward, contact the Education Foundation at 772-564-0034 or visit www.edfoundationirc.org.