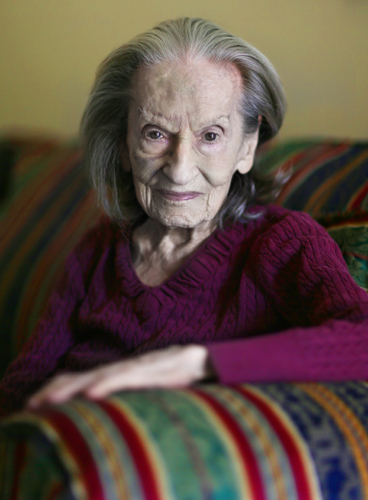 1914. It was the year of the first scheduled airline flight and the founding of the stock brokerage firm Merrill Lynch. Henry Ford introduced his automobile assembly line, the foxtrot was first danced and Franz Ferdinand, Archduke of Austria, and his wife Sophie were assassinated, leading to World War I.
And it was on July 1, 1914, that Florence Cain was born, in New Castle, PA, to Italian parents.
On July 1, 2014, at Nomel's Assisted Living Facility in the Sebastian Highlands, a small group gathered to celebrate Florence's centennial.
Florence enjoyed her special cake and best wishes of staff, friends and her grandson, Chris Helseth of Vero Beach, although she appeared to understand just a little of what all the fuss was about.
According to Helseth, his grandmother Florence worked for International Paper in Atlanta in her earlier years. Her five sisters are now deceased, as is her husband, Troy Cain, who died in 1955. Her daughter, Sandra Helseth, also predeceased her. Another grandson, Patrick Helseth, lives in Winter Springs, FL, and great-grandchildren Garrett and Kristina Helseth both live in Vero Beach.
Florence had lived in Vero Beach since 1979, and moved to Sebastian in 2012. Her caregiver at Nomel's, Darnell Minto, says of Florence, "She is a really nice person. She genuinely cares about you even though she doesn't really know you. And, even at 100, she's very strong-willed."
Florence enjoys gardening, TV talk shows and mysteries and, says Chris, "she likes coffee and cookies to eat."