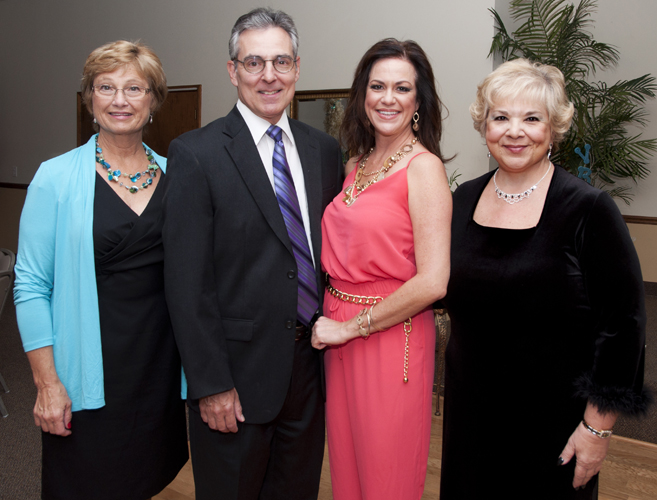 Like a genie in a bottle, each year members of the community capture the magic and delight audiences with performances at the Vero Beach Theatre Guild. At the appropriately themed Stars in the Spotlight 2014 Genie Awards Dinner, their talents were applauded by 160 fellow thespians and supporters.
"The shows were all very well presented. I thought we had a beautiful season visually; there were some really beautiful performances," said Mark Wygonik, VBTG president. "We had a broader spectrum of people audition for us this year which is good; it was lovely. There's some amazing talent; new talent from outside the area who moved here recently."
Social chairman Madelyn Rogers played on the various show themes with the festive décor for the dinner, held Saturday night at the Elk's Lodge.
"I took a piece of something from every show and hung it over the directors' tables," she explained.
Hovering overhead were a sexy red nightgown from 'Don't Dress for Dinner,' Rapunzel's blonde wig from 'Into the Woods,' a hat with bunny-ear holes from 'Harvey,' a Renaissance style black velvet hat from 'Kiss Me Kate,' and a green velvet dress from 'The Miracle Worker.'
VBTG encourages young talent, and this year's standout was Claire Collier, a 12-year old Oslo Middle School student who played the challenging role of Helen Keller in The Miracle Worker. Her stellar performance received rave audience reviews and awards for Leading Actress in a Play and Outstanding Juvenile.
"We'd only known her as someone who's been in music chorus and small little things. So she all of a sudden came out of the blue and bam – she was wonderful," said Wygonik. "She was just amazing; she did a great job."
To prepare for the role, Collier said, "I went around the house blindfolded. I tried to make my bed and stuff; it looked pretty bad."
"She had people crying every single night. It was an amazing performance," said her justifiably proud mother Rachel Collier.
The show also earned awards for director Ben Earman for Outstanding Show and Outstanding Set Design, as well as for Tracy Ruby, Supporting Actress in a Play; Nydia Noriega, Character Actress in a Play; Kendrick Mompremier, Outstanding Rookie; James Dangler, Outstanding Male Newcomer and Kaitlin Ruby, Outstanding Female Newcomer.
Top awards for Don't Dress for Dinner included Ben Earman, Supporting Actor in a Play and Heather Stapleton, Character Actress in a Play.
Into the Woods earned awards for Robin Volsky, Supporting Actor in a Musical and Outstanding Male Vocalist, and Larry Sircy, Character Actor in a Musical.
Harvey earned awards for Bill Lembeck, Leading Actor in a Play and Steve Pagano, Character Actor in a Play.
Kiss Me Kate garnered awards for Anthony Aruffo, Leading Actor in a Musical; Roberta Rose, Leading Actress in a Musical and Outstanding Female Vocalist; Carolyn Toohey, Supporting Actress in a Musical; and Leslie Christoffel, Character Actress in a Musical.
Equally as important were the numerous awards for behind-the-scenes workers, whose efforts are visible, even when they are not. This year's Lifetime Member Award was presented to George Carabin.
After dinner, co-hosts Doolin Dalton and Sara Gordon burst onto the scene following a short video they created.
"We filmed it as if we were making our way to the Genies, asking directions of some of the performers who have graced us this season," explained Dalton.
There was also a preview performance, with Dana Rogers, Nydia Noriega and Connie Flores singing Three Little Maids, from the July 17 to 27 fundraising production of 'The Mikado,' to help fill the coffers of the VBTG building expansion campaign.
"It's going to be gorgeous to look at and beautiful to hear," said Wygonic of Gilbert and Sullivan's satirical comic opera.
A Sushi Gala will augment the performance Saturday, July 19, with food and entertainment, including samurai sword demonstrations. Gala tickets are $100. There is no upcharge for the Saturday, July 26, "Anime Night" performance but ticketholders are encouraged to come dressed as Japanese superheroes or cartoon comic characters highlighting Japanese animation.