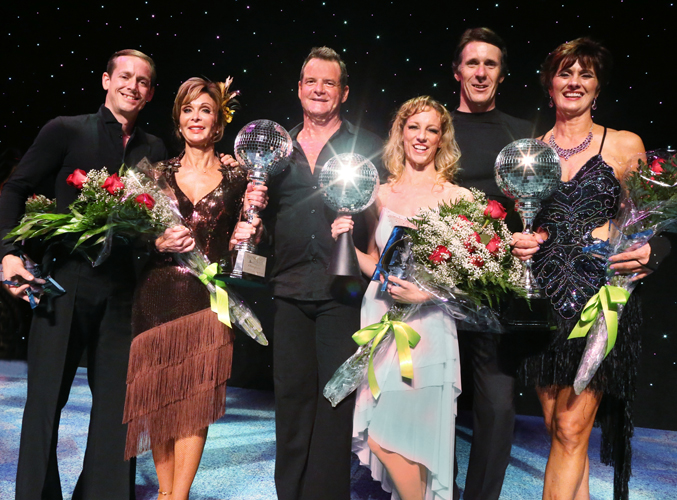 Ten courageous "star dancers" and their talented instructors danced their way into the record book at the sixth annual Dancing with Vero's Stars event at Riverside Theatre to benefit the Indian River County Healthy Start Coalition.
Not only did contestants raise an unprecedented amount, but the evening also produced a three-way tie for 2014 Grand Champion – with the teams of Joan Busch and Joe Tessier, Tim Girard and Amy Trammell, and Dr. Michele Maholtz and Barry Trammell emerging victorious as they took turns sharing one set of mirror ball trophies.
In the ultimate Mother's Day gift to the parents and babies who rely on Healthy Start Coalition programs, this year's fundraiser raised a whopping $308,130.
The competition was fierce, with teams practicing their fancy footwork for hours on end, while also engaging in fundraising efforts. Final scores were based 50 percent on judges' dancing scores and 50 percent on fundraising.
Co-chairs and former star dancers Cheryl Gerstner and Laura Guttridge led an enthusiastic committee who worked tirelessly to create an evening of glitz and glam.
"It was easier for us to contribute more ideas about the overall production elements of the event, having done it last year," said Jon Moses, Managing Director of Riverside Theatre, the event's community partner.
Stars alit from limousines, flashing smiles and a bit of leg along the Red Carpet runway, before stopping for interviews with 2011 Grand Champion Bobby Guttridge. After a cocktail hour, where contestants' supportive families and friends encouraged bidding on a host of silent auction items, the sold-out crowd filtered into the theater for the big event.
Show Emcee Hamp Elliott, of 93.7 The Breeze introduced the trio of judges tasked with the most difficult role of the night – Scott Rosenberg, an acclaimed Hollywood screenwriter for movies and television productions, and returning judges Lance Sexton, owner of Melbourne Ballroom, and Donna Roberts Mitchell, co-owner of Idea Garden Advertising and Planet Vero Radio.
"I honestly thought it was going to be like a seventh-grade talent show," shared Rosenberg during the cocktail hour. "Yet when they went through full dress rehearsal, I saw just how ambitious and sophisticated it really is; the level of stagecraft and how much time the dancers have put into it."
Scot Wilke, owner of Wilke's Fourteen Bones Barbecue and his partner Kaylan Keathley drew the difficult first position, dancing a saucy salsa to a Latin version of the Pink Panther.
Kitty Wagner, owner of Blue Star Wine Bar, and her partner Bob Kane danced a Night Club 2 Step, with Mitchell commenting that she was "a picture of grace."
County Commissioner Wesley Davis almost bared all with an energetic Country Broadway mix with partner Terry Greene that he clearly enjoyed as much as the audience.
Impressive lifts in the Contemporary dance by Tim Girard, owner of Girard Equipment and Amy Trammell impressed even Sexton, earning the evening's first 10 and the highest score of the night.
Tony Donadio, owner of Donadio & Associates Architects and his partner Karren Walter whooped it up cowboy style with an animated Swing/Cha-Cha.
Dr. Alan Durkin, CEO of Ocean Drive Plastic Surgery and partner Beth Shestak made an entrance in scrubs before revealing dancing duds for a jaunty Jazz/Broadway routine.
Joan Busch, mother of six, LPN and philanthropist showed off her sexy side with a rhythmic cha-cha with Joe Tessier that Rosenberg deemed precise and beautiful.
Ginger Atwood, president and co-owner with son, Ryan Gragg of The Alexis Agency and her partner Robert Scott put off some heat with their slow and sultry salsa.
Dr. Michele Maholtz, pulmonary, critical care and sleep medicine physician, paired with Barry Trammell for a Russian Interpretive Rumba, with Rosenberg noting the "sleep doctor just woke up the room."
Last but certainly not least, Samantha Brackett, owner of Ripple Effect Advertising danced an intense theatrical tango with Brad Stein, with Mitchell commenting that she made a "ripple effect on the audience."
The torch for top fundraiser was passed from Dr. Glenn Tremml to new record holder Dr. Durkin, who raised $67,000. The second runner-up team was Brackett and Stein, and the first runner-ups were Durkin and Shestak.
The IRC Healthy Start Coalition is making an impact on the lives of families – from pregnant women and their unborn babies to families and young children through a broad spectrum of programs and support services.