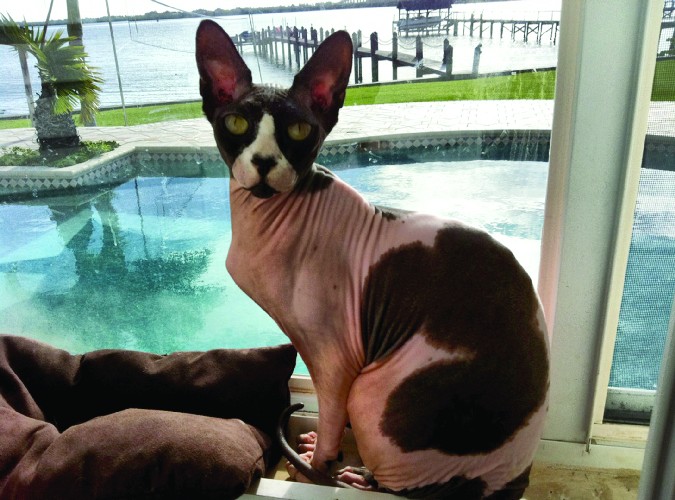 Hi pet buddies,
In the year and a half that I have been writing the Sebastian River News pet column, I have encountered some mighty unusual dog breeds.
But never, until now, a hairless cat.
"My breed has a name, Bonzo, and so do I," a voice hissed at me.
Uh oh.
"I didn't see you there," I said apologetically.
"My name is Leonides. I am 4 years old and I'm a Sphinx — a breed of cat known for its lack of fur."
I tried to be inconspicuous as I glanced over toward Leonides, and was struck by his unique wedge-shaped head and gorgeous green eyes. His body looked a little wrinkled, but he was a handsome dude – for a cat.
Leonides lives in Sebastian with his human mom, Raffaella Giambanco.
"When my mom was 16 years old, she really wanted a cat," Leonides said. "Mom was living with her human parents at the time and unfortunately, her mom was allergic to cats. Mom's dad suggested mom look into getting a hairless cat.
"Mom was a little scared at first, because she'd never seen a Sphinx before. But she found a breeder in West Palm Beach and all her worries went out of the window."
"Did you go home with your mom the day she came to check you out?" I asked.
"No, you silly dog," Leonides said. "I was only a young kitten then. My mom's parents picked me up while mom was on a field trip and brought me home so I could surprise her."
"Aww, that's sweet," I said under my breath. Cat's always come with a little bit of attitude.
"But mom and I don't live with her parents anymore, Bonzo," Leonides said.
"Oh? What happened?" I asked.
"Well, mom's little human brother got a little, yappy rat terrier dog," Leonides said.
"A dog buddy?" I asked my ears perking up. "Pawsome."
"Have you lost your mind, Bonzo," Leonides said. "This little rodent didn't understand the meaning of boundaries. It would come into mine and my mom's room trying to start all kinds of problems. Mom and I finally moved out.
"Now things are quiet and peaceful again," Leonides sighed. "I watch mom bake and she lets me lick the bowl.
"I snooze in the sun and watch the world go on outside through the window while mom is at work. When mom comes home, I jump into her arms and we hang out together and have fun. Life is great."
Unusual dog breeds, hairless cats – what else am I going to encounter next in North County? You'll have to come back to read my column next week, dog buddies.
Till next time,
The Bonz