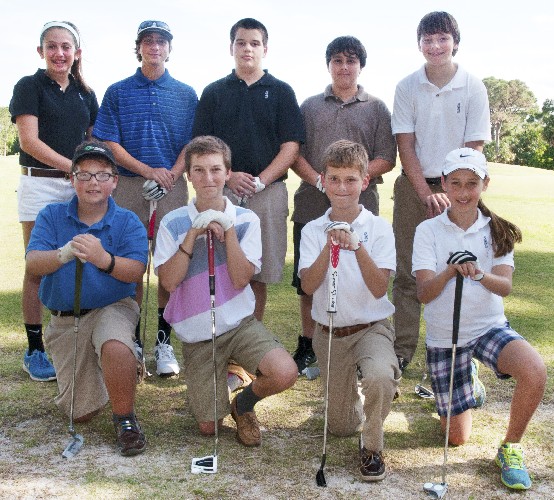 St. Ed's 2014 Middle School Golf team has only four regular season matches scheduled with two schools before the championship of the Treasure Coast Athletic Conference is determined at a tournament scheduled for April 28.
The Pirates have already defeated the Pine School twice with two matches remaining against St. Joseph's, including the makeup of a rainout.
Some impressive rounds have characterized the duels with Pine School. Eighth grader Anirudh Mysore carded a 42 at the Martin County Golf & Country Club. Fellow eighth grader Anthony Chiarenza matched that score a week later on the Pirates home course at the Indian River Golf Club. Both venues feature regulation professional golf courses.
"We have the full gamut of golfers," Head Coach David Rogers said. "We have brand-new golfers and then we have very sound, experienced players. The better players usually play year round and have private instructors. Some of my other golfers only play during the season. Those playing year round are probably going to start more often than the casual players."
Nine boys and six girls on the roster compete equally in practice (from their respective tees); however Rogers can take only six golfers to each match, where the four best rounds for each team count toward the final score.
"Golf is coed at the middle school level," Rogers said. "I take everything into account when I determine who goes to a match. I look at attitude, how well they practice, how coachable they are, and if they help others.
"I do take all of that into account, but the biggest factor is probably the quality of the golfer. If I had six girls with the best scores on my team, I would take them to every match. The mix doesn't really matter."
Mysore won the medal for the best overall score with his 42. Chiarenza (46), Paul Siegl (51) and Britt Reisman (51) combined for a team total of 190. That was 28 strokes better than the Pine School foursome. Will Sternberg (55) and Elise Mallon (62) weren't that far behind.
Chiarenza's was also a medalist with his 42, followed by Sternberg (49), Siegl (51), Reisman (54), Will Miller (57) and Mallon (57). The margin of victory this time was shaved to 13.
"Anirudh (Mysore) has been a starter since the sixth grade," Rogers said. "I knew he had the potential to have an excellent year. He'll always be one of our top scorers, if not the top scorer. He practices a lot all year round."
Mysore was unable to attend the second match because he participated in a science fair.
"Anthony (Chiarenza) transferred in last year and did not play golf, but he's been a big surprise for me this year," Rogers said. "He has a very nice, fluid swing. As he gets more comfortable his scores will drop. He's got a lot of potential."
Rogers has been "around the sport for 30 years and I would like to think that I'm knowledgeable about the game. I've studied the swing and the flight of the golf ball. Being a math teacher, that kind of stuff interests me.
"The more experienced kids understand what I'm talking about. I just try to help them out with etiquette. I don't really want to get involved with their swings and put too many swing thoughts into their heads. That can really mess a golfer up."
For the rookies Rogers has a simpler coaching approach that focuses on "basic techniques with the grip, swing, follow-through, keeping the body still, and the little things – like putting – around the green."
Seventh grader Paul Siegl says "I started playing golf when I was 6 and I haven't left it yet. When I was younger I really didn't know a lot about it, but I got better year-by-year.
"I don't have distance when I'm driving, but I can hit the ball straight. I don't miss the fairway very often. I'm consistent."
Siegl enjoys challenging his friends on the team, but he says the competition always remains friendly, especially with Mysore.
"Playing golf with the middle school team is a lot of fun," Mysore explained. "We meet players from different schools and it's nice to interact with them and play a good round of golf.
"I started playing golf when I was e8 and I've really developed a passion for the game. I was able to improve over time and I found that my scores are a reflection of how I practice.
"My strong suit is my short game, chipping and putting. That's what really saves me on the course. Patience is always the key, as well as controlling your nerves.
"With my tournament experience, I've kind of overcome those first tee jitters, but they're still there, a little bit. But my goal is always to stay calm."