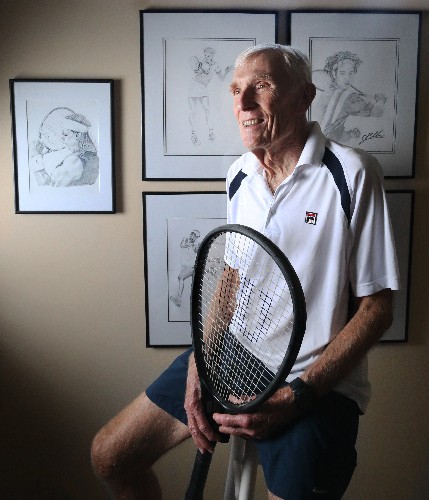 VERO BEACH — King Van Nostrand was, as usual, a gracious host, greeting me with a warm handshake and leading me to a comfortable chair in the sun-splashed Florida room at his golf-course home at Grand Harbor.
Just weeks shy of his 80th birthday, his hearing has been failing in recent years, so he'd sometimes interrupt and ask me to repeat a question, which I did in a louder voice.
But he was glad, even eager, to discuss anything I wanted to know about his long and decorated tennis life, jumping up to fetch photographs and other memorabilia from a Hall of Fame career in which he has won several world titles and, literally, more national championships than he can remember.
"Singles and doubles, the number is somewhere in the high 30s or low 40s, but I've lost track," Van Nostrand said of his collection of gold balls, the trophies awarded to national tournament winners by the United States Tennis Association. "I've got a few here, but I've given most of them away."
He smiled and shrugged.
At this point in his life, hampered by an achy left hip and compressed spine, propped up on his second set of replaced knees, he's more concerned with championships still to be won than the ones he already owns – especially now.
A painful bout with shingles had kept Van Nostrand off the courts for most of the past few weeks, taking him away from a game that has been his passion for more than 70 years. He was feeling better late last week, well enough to hit a few balls with his wife, Boots, but competing is what he enjoys most about tennis.
"This is hard for me, and it's even harder on my wife," Van Nostrand said, referring to his college sweetheart, with whom he will celebrate 59 years of marriage this summer. "I'm a crazy man when I can't play."
He said the virus, which produced a rash from his abdomen to his back, "frightens the heck out of me," because it imbeds itself in nerves and can linger for weeks and months. But he believes doctors caught the outbreak and began treatment soon enough for him to avoid a lengthy episode.
"I'm hoping this is a very temporary thing," he said.
Unable to play tennis, Van Nostrand has occupied his time with other interests, such as his wood-working hobby, reading and watching the NCAA basketball tournament on television.
To stay active, he walked around his neighborhood.
"And I did my taxes," he said.
Nothing, though, could replace the inner joy he feels and adrenaline rush he experiences when darting around a tennis court, trading strokes and playing matches. Nothing else puts such a glint in his eyes.
"I feel bad for the poor guy," Boots said. "He's the ultimate competitor. Always has been. He just loves to play and compete, as much now as ever, but every once in a while, his body lets him down a bit.
"He's champing at the bit," she added. "He's on the computer every day, looking at what tournaments are coming up."
Assuming he's physically able, Van Nostrand, who is eligible to play in the 80-and-over division this year, hopes to enter tournaments in Europe in June. The USTA National Clay Court Championships are in August in Virginia Beach. The world championships are scheduled for September in Turkey.
All of those events are played on clay, which Van Nostrand prefers to hard courts that take too great a toll on his back and knees.
He had both knees replaced in 1997, but one of the replacements broke in 2006 and the other replacement wore out in 2012.
"I train hard and play hard," he said. "I probably take it too seriously."
Tennis, though, has always been a big part of Van Nostrand's life, going all the way back to his youth on Long Island.
A successful junior who starred at Bay Shore (NY) High School, he went on to play at Cortland (NY) State, graduating in 1956 and serving in the U.S. Navy before returning to his hometown.
There, he taught high school mathematics for 30 years and coached the junior varsity teams in the 1960s and '70s.
During the summers, he gave tennis lessons at local clubs. He also taught his four children to play – well enough that all of them earned college scholarships.
Two of them, John and Molly, became All-Americans who went on to play on the pro tours.
"We were a tennis family," Boots said. "When the kids were growing up, all of our vacations centered around tennis and going to tournaments. We'd all play."
Molly, who attended Southern Methodist University for one year before turning pro, spent seven years on the WTA Tour in the 1980s. She reached the Wimbledon quarterfinals in 1985 and climbed into the top 40 in the world rankings before a back injury ended her career.
John's career ended tragically. A two-time All-American at Pepperdine, he was trying to muster enough rankings points to qualify for Wimbledon in 1984 when, while driving to a Challenger-level tournament north of Mexico City, his car veered off a curve on a mountainous road. He and a buddy were killed.
That wreck occurred 30 years ago this week, but, even now, his parents don't blame tennis.
"Tennis had nothing to do with what happened," Boots said. "John loved his life. Playing tennis was something he loved to do."
For the Van Nostrands, tennis has been a way of life. That's why they moved to Vero Beach in early 2002: Florida's climate allows them to play outdoors, on softer clay courts, on a year-round basis.
It should come as no surprise, then, that Van Nostrand, who won his first USTA gold ball in singles in 1970, has continued to enjoy plenty of tennis success the past 12 years.
Since his arrival in our tennis paradise, he has won 52 consecutive USTA singles tournaments in his various age groups, compiling a stellar 189-0 record, dominating to a point where only one match required a third set.
He has added six gold balls, despite the knee replacements that have limited his play to clay.
Internationally, Van Nostrand has won the prestigious ITF World Singles Championship six times, taking the trophy in Philadelphia (2004), Turkey (2005, 2008, 2010 and 2011) and Australia (2009).
In all, he has won nine world singles titles, which ranks second all-time in the seniors ranks, and was a finalist four times.
Though he prefers to play singles, he won ITF World Doubles Championships in 2002, 2008, 2011 and 2013 to raise his career total to six. He was a doubles runner-up twice.
"The best was in 2004," Van Nostrand said, "when Boots and I both won national championships in the 70-and-over singles."
Van Nostrand also has represented the U.S. in 18 ITF World Team Championships, helping the Americans win 15 of them, including seven since 2002. He played No. 1 singles in all but two of those tournaments.
"Playing for my country never gets old," said Van Nostrand, who, for some inexplicable reason, hasn't yet gotten any calls from the USTA Florida Hall of Fame. "I still get choked up when they play the Star-Spangled Banner."
Don't be surprised if he hears it again this year. He plans to resume training as soon as the shingles pass and his body is able.
He can't wait to compete again – and to win again.
"I still move better than most guys my age, and now I'm the young guy in my age group," he said, "so I expect to do well."
But for how long?
"I know somewhere down the line I'll have to hang up my racket, but, at this point, I'm not even thinking about it," Van Nostrand said. "I don't want to think about it."
As I got up to leave, he was as grateful as he was gracious, thanking me for showing such interest in his tennis.
But he readily admitted that a few weeks away from the courts had made him a bit restless.
So if he knew he could never play again?
"When that happens," he said, "I'll be a cranky old man."