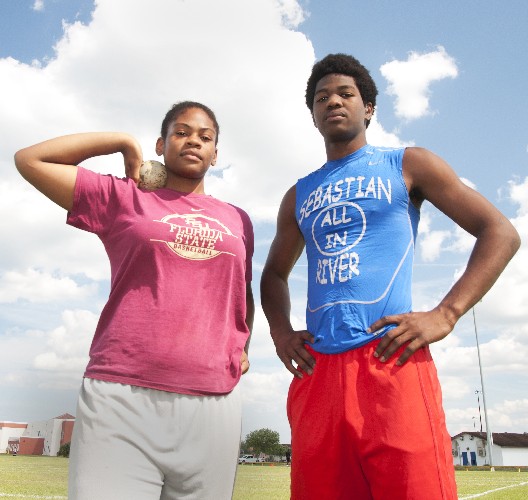 When Matt Jones takes a look at the long jump pit before one of his attempts in his best track and field event, he knows that a quick sprint could lead to a successful jump. The same strategy is true in the triple jump.
Jones, who will compete in next Wednesday's Class 3A, Region 4 Track and Field Championships at Traz Powell Stadium in Miami, hopes to earn a coveted berth in both of those events as well as the high jump. A perfect day also would mean qualifying as a member of Sebastian River High School's 400-meter relay team.
While the need for speed translates to success in the sport, there are times when a slower approach is effective.
"I'm stretching more now," said Jones, who has personal bests of 22 feet, 11 inches in the long jump, 42-11 in the long jump and 6-2 in the high jump. "Now, I'm more comfortable. Last year, I got hurt. It was frustrating. I wasn't stretching at all. I had the attitude of wanting to get out there and get going. You have to stretch your quads and take care of yourself. Drinking water is the most important thing. Soda won't help."
Last year, Jones sustained a slight hip fracture during a track meet to end his season. Now, as a senior, he wants to accomplish a few more things before Sebastian River conducts its graduation on Saturday, June 7.
"I'm looking forward to breaking my (personal record) again," said the 6-1, 175-pound Jones. "I can see myself progressing more."
Competitors in the long jump always are looking for that Bob Beamon moment. Beamon leaped 29 feet, 2 1/2 inches in the 1968 Summer Olympics for the United States to eclipse the world record by nearly 2 feet. That record stood for nearly 23 years. In high school, the state champion in Florida often is someone who sets a personal best at the most opportune time.
"I could see Matt going another 2 feet in the long jump and 2 or 3 more feet in the triple jump," Sebastian River boys track and field coach Tony Perry said. "He's so explosive. I'm hoping that it will be at the right time. But, at the regionals, it's not always about distance. It's about the place."
Jones will have to place among the top six to earn a berth in any of his three individual events.
"Matt's work habits have changed," Perry said. "He's putting in the extra time. He realizes that it might be all over in a month. He's only got a month left in his senior year."
As graduation approaches, Jones has had time to reflect on his years at Sebastian River. He wishes that he had competed in track and field as a freshman and sophomore.
"I didn't always like track and field," Jones said. "There were events that I didn't want to do. Now, I can see how important the conditioning is for other sports. Track has become something fun to do."
The 18-year-old Jones has some decisions to make after graduation. He's trying to improve his grades in order to play college football this fall. He also hasn't ruled out competing in track and field at the college level.
A pinched nerve in his shoulder prevented Jones from playing much at running back last fall as Nick Cooper thrived as the Sharks' primary ball carrier. Jones focused on his duties as a defensive back and he also was the Sharks' most effective wide receiver.
"Coach (Kevin) Pettis wasn't comfortable having me run the ball with my injury," Jones said. "I couldn't play like I planned and wanted to as a senior. It was kind of disappointing. I know the colleges need great defensive backs with all those spread offenses. But, I like running back more. I can't predict the future."
Tayler Smith still is upset that the Sebastian River girls basketball team was ousted in the semifinals of the district tournament and failed to earn a berth in the state playoffs. Two years ago, the Sharks won a state title in girls basketball and last year they missed a spot in the Final Four after a one-point loss in the regional championship.
At times, Smith unleashes some of that anger while throwing the discus or heaving the shot put.
"I'll take responsibility," said the 17-year-old Smith. "I expected more out of my junior year. I was very hard on myself. I'm going to come back with fire. Our coaches got us to the point where we were prepared for the crossroads. They did their job; we didn't do ours."
Injuries curtailed her track and field season last year after a fine freshman season.
"I'm trying to relax and stay focused on what I need to accomplish," said the 5-foot-10 Smith, who has personal bests of 122 feet in the discus and 43 feet in the shotput. "My footwork has gotten better. I'm paying better attention to details. I want to put everything together."
Smith plays AAU basketball nearly every weekend, but she finds time in the weight room to do the strength work that is necessary for the throwing events in track and field.
"I like benching and squats," Smith said. "I do the back work and I like doing curls for the triceps and biceps. Getting in the weight room helps so much. With me, it's about confidence. I've fallen in love with lifting weights."
Standing in the circle before a throw in the discus or shotput could be comparable to taking a deep breath before attempting a free throw in basketball.
"When I'm doing both, I have got to relax and not tense up," Smith said. "I can yell when I'm throwing the shot or discus, but I don't do it like some others. It's a way to get attention. I'm a very quiet person."