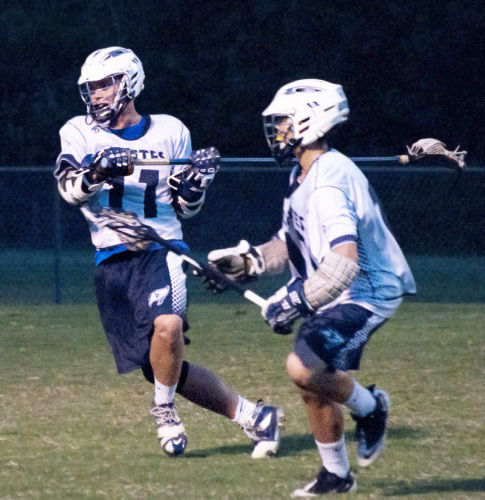 VERO BEACH — Vero Beach boys lacrosse beats St. Edwards 9-8, moving on to play Jensen Beach Thursday night for the district championship.
St. Edwards was the host team for the Boy's District 19 semifinal games Tuesday night. Jensen Beach defeated Martin County 9-7 in the first game of the district doubleheader.
Vero Beach and St. Edwards squared off in a game that has become quite a rivalry between east and west. Vero Beach handily defeated St. Edwards earlier in the season 10-5 and that set the tempo for the game Tuesday night. Several players from Vero Beach High School have transferred over to the Pirates and that may be another reason that this rivalry has become so personal. Vero Beach head coach John Morriarty called up two freshmen from the Junior Varsity team, Chase Stokes and Ryan Overholt, who have added more punch to the Fighting Indians attack. All of the elements and then some were on display before an enthusiastic crowd.
In the first quarter both teams started aggressively exchanging goals to end the first period in a 3-3 tie.
Winton Roschach scored first for Vero Beach in the second quarter to put the Indians up 4-3. Then St. Edwards scored three goals back to back to back. The first two goals were scored by Ross Pridemoore and the third by defenseman Danny Walsh. The Pirates led at halftime 6-4.
After a brief but effective halftime speech by Vero Beach coaches John Morriarty and John Cannon Vero Beach lit up the St. Edwards' goals with scores from Kevin Heckman, Bennett O'Brien, and freshman Ryan Overholt respectively. Vero Beach led 7-6 with 2:18 to go when St. Edwards tied the score 7-7. Vero Beach sophomore Chris Britton gave the Indians the go ahead goal in the third with 90 seconds to play in the quarter and Vero led 8-7 at the end of three.
St. Edwards played perfect defense in the fourth quarter shutting out the Indians' high powered offense. The Pirates were able to knot the score at 8 and send the game into overtime.
It only took Vero Beach 22 seconds to finish off the Pirates in overtime when Zack Funk rung up the game winner that brought the Vero faithful to their feet.
"The boys' played well tonight," said Coach Morriarty. "They never gave up, they continued to fight and came out on top. It was a great win for us as a team."