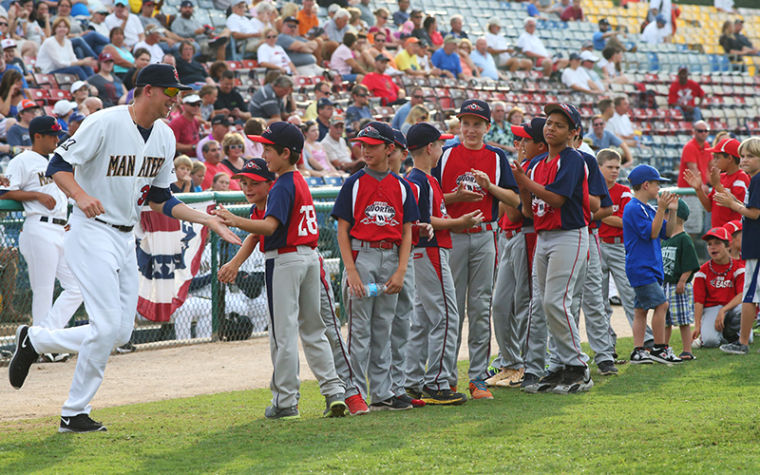 VERO BEACH — Nostalgia and the smell of Dodger Dogs swept through the stands of Holman Stadium during Historic Dodgertown's first Jackie Robinson Day Celebration Game.
The National Anthem, fireworks, and the cry of "play ball!" ushered in an evening of wholesome family fun to commemorate baseball's first African-American player. Robinson played baseball for the Brooklyn Dodgers when the team established spring training in Vero Beach in 1948.
The game between the Brevard County Manatees and Lakeland Flying Tigers was the first professional baseball game at historic Dodgertown since the L.A. Dodgers departed Vero Beach for Arizona in 2008.
Major League Baseball has celebrated Jackie Robinson's contribution to the game and to society at-large for the last six years on April 15 by having each player and all on field personnel wear the number 42, which was Robinson's. This was the 67th anniversary of Robinson breaking baseball's color barrier in 1947.
"This is a great community event that brings professional baseball back to Holman stadium for a night," Historic Dodgertown Vice President Brady Ballard said at the game attended by roughly 4,000 spectators. "It provides an exciting event to benefit United Way of Indian River County."
Michael Kint, United Way of Indian River County CEO, noted the vibe at the newly spiffed up stadium. "Have a Dodger Dog, a beer and sit in Holman Stadium and watch baseball….that doesn't happen here every night. It used to, and people are saying, 'Man I miss this!'"
A pre-game ceremony included the appearance of local little league teams and the President of the Florida State League who read a letter from Robinson's widow, Rachael, on behalf of the Jackie Robinson Foundation. The letter was addressed to the former Dodgers owner and current Historic Dodgertown Chairman Peter O'Malley. It indicated that Robinson believed "A life is not important except in the impact it has on other lives." The foundation provides educational opportunities to young people.
The first pitch was thrown out by 7-year-old Ethan Herndon, a 2nd grader at Rosewood Elementary School who suffers from congenital heart disease.
Pat O'Conner, President and CEO of Minor League Baseball, put out a brief video for use on video scoreboards throughout all of Minor League Baseball ballparks on April 15 about Jackie Robinson Day. He mentions that the first-ever Jackie Robinson Celebration Game is to be played at Historic Dodgertown in Vero Beach that day. He calls the stadium "the cradle of baseball's racial integration."
Dodgertown opened in Vero Beach in 1948, and Robinson played in the first game on March 31, 1948. Robinson was in his 2nd season with the Dodgers. Dodgertown was the home of the Dodger's spring training from 1948 to 2008.
It was the starting place for six world championships and 14 national league pennant winning teams. Numerous baseball hall of fame players trained on these grounds.
Baseball fan Ernest Herbert, of Vero Beach, clad in a retro Brooklyn Dodgers blue team baseball uniform with the number 42, was bolstered by the presence of professional baseball at Historic Dodgertown.
"He left a legacy on America's game of baseball," Herbert said. "He solidified us at Americans. Thanks to Jackie, he got an opportunity to play something he was initially denied and he exceeded all expectations."