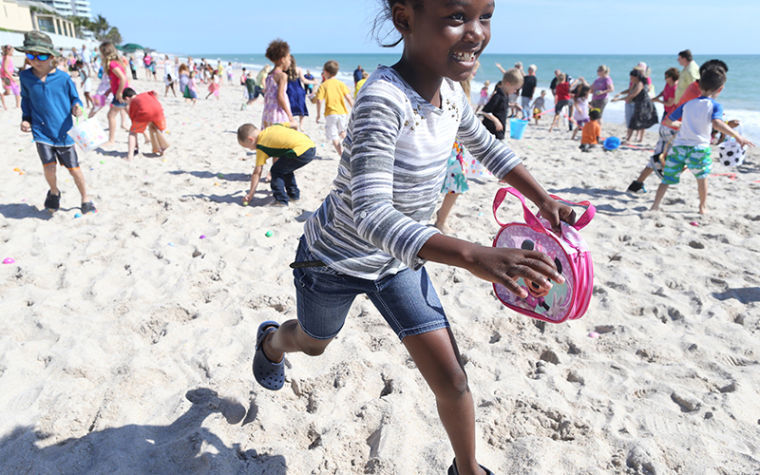 VERO BEACH — The City of Vero Beach Recreation Department and Mulligan's Beach House held the 55th Annual Easter Egg Hunt Saturday, officially kicking off the Easter Egg hunting season.
The next government-sponsored egg hunt will be Monday, April 14, at the North County Aquatic Center starting at 6:30 p.m.
The Indian River County Recreation Department is hosting three hunts, beginning with the Water Egg Hunt at the pool for children ages infant to 8.
The children's swim area at the North County pool will be covered in plastic Easter Eggs that float on the surface for the kids to "scoop up."
Children are encouraged to bring swimsuits and towels and leave the plastic bags at home.
The next hunt will be at the Gifford Youth Activities Center, located at 4875 43rd Ave., Vero Beach, starting at 7:45 p.m. on Tuesday, April 15.
Children are encouraged to bring their flashlights for the "Indoor Flashlight Hunt" in the GYAC gym.
The final Indian River County-sponsored events will be the "Outdoor Flashlight Hunt Egg-stravaganza" on Thursday, April 17, at 7:45 p.m. for children ages infant to 8 years old.
The hunt will be held at the South County Regional Park, 800 20th Ave. SW, Vero Beach.
Flashlights, again, will be encouraged. There will be special prizes to be won, including Golden Eggs and Easter baskets.
Not to be outdone, the City of Sebastian will host its annual Easter Egg Hunt on Saturday, April 19, at Riverview Park beginning at 10 a.m.
There will be different Easter Egg "patches" for the various age groups.
Participants are encouraged to bring plastic Easter eggs as donations.
Riverview Park is located at US 1 and Sebastian Boulevard (County Road 512).