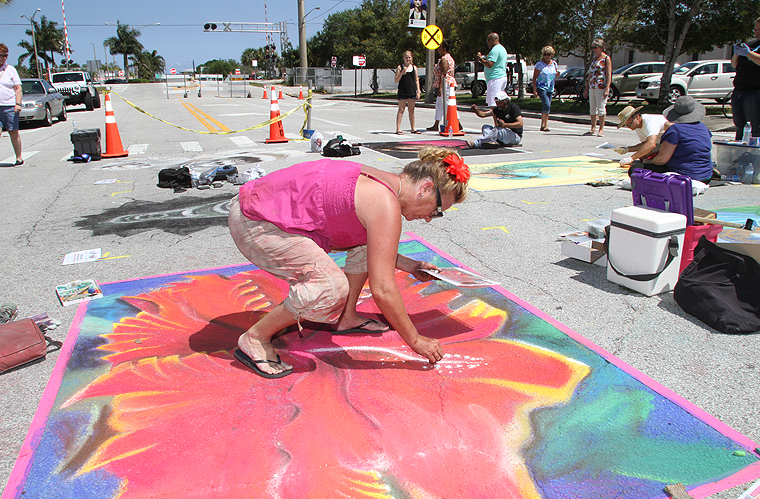 VERO BEACH — The annual Hibiscus Festival hosted by Main Street Vero Beach has become a staple in the community, drawing thousands of visitors for over a decade.
But this year, members of Main Street Vero Beach, the non-profit organization charged with revitalizing and preserving the historic downtown area of the city, had a few tricks up their sleeve that may change the Hibiscus Festival experience forever.
In their opinion, the changes are more than welcome.
"We're taking it to the next level," said Tammy Adams, executive director at the non-profit. "The organization has always wanted this to be a fine art and music festival. … A lot of people are saying this is the best Hibiscus Festival yet."
Though the annual festival has always been known to center around art and music, this year, the Board honed in on "fine" art and music. The result was a narrower field of visual artists and crafters, higher quality musicians, the addition of a professional chalk art exhibit and competition, and a variety of gourmet food trucks.
"This year, we were designated the historic art center for Vero Beach," said Sherry Wilson about Main Street Vero Beach. The new title, she said, was motivation to up the ante on the quality of artists at the festival.
Wilson served as art show coordinator for Saturday's event.
"Reaction from the artists this year has been very positive," Wilson said. "We took only about 50 percent of those who applied."
Wilson likened art shows at previous Hibiscus Festivals to a "market place," noting this year was different not only because of the quality of work expected from the artist, but all vendors who did not hand craft their pieces were excluded.
"They brought in 28 booths, but of the 28 booths, they brought in 28 very nice vendors," said Arthur Jacobs of Wellington, Fla. "This event was extremely well run and well organized. From an artist's point of view, I would love to return."
Jacobs was awarded the first place ribbon in the festival's professionally judged arts and crafts competition for his work in Chinese silk embroidery, an art form that can trace its roots back more than 3,500 years. Jacobs said he has been stitching for 65 years, but this was his first Hibiscus Festival.
Musical guests were also scrutinized more closely before claiming a time slot on one of the four stages at the festival, Adams said.
Arguably the most anticipated musical talent to appear on stage was Kristen O'Connor, the Sebastian resident who gained a national following after her success in becoming one of this year's top 13 contestants on the nationally known reality TV show American Idol.
O'Connor performed several songs with her guitar from the Hibiscus Festival's main stage, and announced her official homecoming tour would take place on April 28 at Captain Hiram's in Sebastian.
Keeping with the spirit of highlighting top notch talent, Main Street Vero Beach recruited world-renowned chalk artist Jennifer Chaparro of Palm Beach, to gather up some of the top street artists for a chalking competition.
More than a dozen competitors sectioned off a portion of the asphalt on 21st Street and got to work under the hot sun creating their own chalk mural.
Dahlia Perryman, of West Palm Beach, chalked a mural of her little sister as a princess in a fairy tale-esque field.
Perryman has been creating art with chalk for over 15 years, and said she tends to do a lot of portraits of African Americans, and likes to create images of strong women.
"But your favorite one is always your last one," Perryman said.
Perryman's mantra may ring true for Jeanie Burns, of West Palm Beach, who won the competition with her re-creation of a Vero Beach post card depicting a female looking at Hibiscus flowers with a sun setting over the ocean in the background. Lettering that read "Greetings from Vero Beach" appeared in the corner of the vibrantly colored finished piece.
"Really, it was Jeanie and friends," Burns said jokingly of the finished project. She was referring to the collaborative effort from her fellow artists and competitors who helped her put the finishing touches on her post card.
Collaboration, many of the chalk artists argued, was what the art form is all about.
Collaboration seemed to be one of the key words of the day, especially among artists. But the instance in which collaboration pulled on the most heart strings was during a portion of the festival that was not revamped from years passed, but instead remains a strong tradition and corner stone of the entire event, the shopping cart parade.
Local businesses joined together in friendly competition to decorate a shopping cart and fill it with groceries that would be boxed up and trucked down the street to the Harvest Food and Outreach Center.
Banks, entertainment venues, media companies and more participated in the parade in order to bring food to the tables of those in the community who are experiencing a time of need.
Barbara Butts, a Harvest Food and Outreach Center board member, said she joined the board this year and assured supporters that "this organization is the real deal."
"It's about giving a hand up, not a hand out," she said. "This organization knows what it's like to be in trouble. They help with education, training, and self-esteem, so you can go out and raise yourself up."
The food collected by the shopping cart parade will go to help the 6,191 children, 25 percent of the children in Indian River County, who are living in poverty.
It may have been different from anything Vero Beach has seen in previous Hibiscus Festivals, but after a full day of fine arts, food, music, and community outreach, Main Street Vero Beach will chalk the success of the event up to the organization's ability to pull off something totally new and fresh.
Hibiscus Festival 2014 from Vero News on Vimeo.