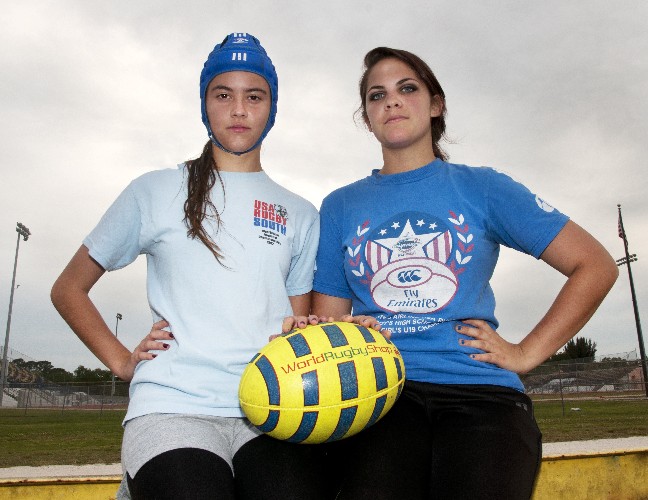 Cyrena Touros remembers her freshman year at Sebastian River High School with fondness. She didn't run from a challenge then and she doesn't run from a challenge now as she looks forward to her commencement exercises later this spring.
Touros, who will turn 18 later this month, decided to play rugby for the Sharks as a freshman. After four years, she's still playing her favorite sport.
"I knew I wanted to play a sport – I was athletic as a kid," said Touros, who moved to the area from Maryland for the start of sixth grade. "I didn't know much about rugby, but I figured no one else knew how to play either. It's been a rewarding experience. We're sort of like a family, and we're always there for each other."
Touros played at the wing position before moving to scrum-half as she got older. At scrum-half, she has become one of the leaders of the team.
"The scrum-half is kind of like a quarterback," the 5-foot-7 Touros said. "I relay the ball to the back line. The wings are the fastest players on the team."
Touros, who also runs the long-distance events for the Sharks' track and field team, hopes to play rugby in college. Her first choice is to attend Harvard University, where she has been wait-listed. Harvard's women's rugby team began playing at the varsity level this season.
"That's absolutely my No. 1 choice," Touros said. "Most schools only have club teams and they're not that serious about rugby. Playing varsity rugby for Harvard would truly be special and such a privilege."
The fact that Touros plays rugby for Sebastian River was a topic during her interview with a Harvard alumnus.
"It was a big deal during my interview," Touros said. "It kind of shows that the sport is up and coming. I'm pretty positive that playing rugby is one of the reasons I got wait-listed."
If she doesn't attend Harvard, Touros still will attend a fine school this fall. She has been accepted by New York University, Johns Hopkins, Georgetown and Boston University.
The irony is that Touros, the third of four children in her family, will enroll in an out-of-state school. She has a brother who attends Cornell University and a sister who attends Florida State.
"We're a family of six and my parents were worried about how we would pay for college," Touros said. "We moved to Florida because of the Bright Futures Scholarships."
The Bright Futures Scholarship program rewards high school students in Florida who earn good grades and participate in community service programs. It helps them attend colleges in Florida.
Besides rugby and track, Touros was the trumpet section leader for Sebastian River's marching band. She also is on schedule to earn a diploma in the school's International Baccalaureate program.
"I'm on a pre-law track and I'd like to major in the classics," Touros said. "It gives you a pure Western view of government and law."
Carmela Hinton, who shares leadership duties on the rugby team as a co-captain along with Touros, also is enrolled in the IB program.
"I feel real honored to be a co-captain," said the 18-year-old Hinton, who plans to major in nursing at the University of Central Florida this fall. "This has been the best season so far for me. The attitude of the girls has motivated me to work hard. We have 12 seniors on the team, but I'm worried about next season. We have only one freshman on the team. I hope the players on the team (in the future) will love rugby as much as I did."
Sebastian River coach Allan Dobson remains flexible when it comes to practices and matches.
"We do preach academics over everything else," Dobson said. "We're lucky to have a large number of IB students and they have all sorts of additional activities. There are struggles with having the same players consistently at practice. That can make it tough to continue to improve."
Hinton, who gave up cheerleading as a freshman to play rugby, also has run for the girls cross country team.
"It feels good to run and score trys," the 5-foot-6 Hinton said. "I love tackling when it's done right. I'm not scared to get knocked around. If you have the right technique, it can get real intense. At center, it's a little tougher for me. There's more sprinting."
A good girls rugby team has players with all types of athletic ability.
"There are so many different positions," Hinton said. "At forward, you can have the bigger and stronger girls pushing for possession with the stronger legs. In the back, you can have the track runners who are fast and the soccer players who can kick the ball. Everyone can play. I try to convince people that we only practice two days a week and that they can make the time to come out and play."
Family support also is important.
"My mom (Georgia Taje) is my cheerleader in everything I do," Hinton said. "It helps a lot when I hear her do the chants from my cheerleader days. It gets me pumped up and motivated. My teammates love her and my mom is their mom. We're like one big family."