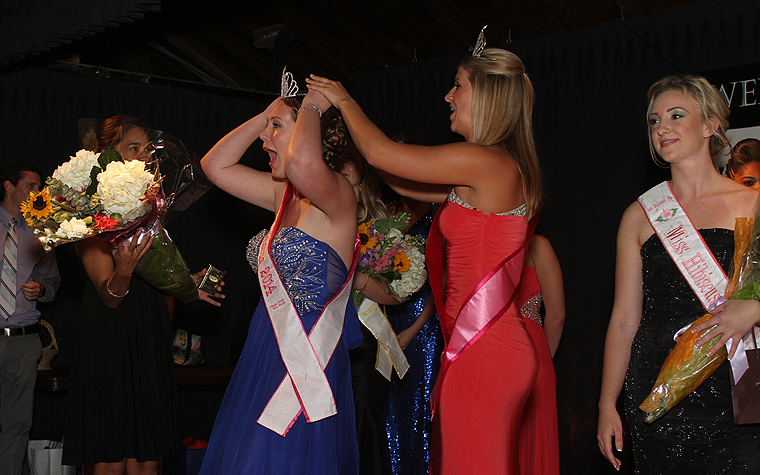 VERO BEACH — Kaitlin Ruby impressed the judges of the 2014 Miss Hibiscus Pageant on Friday night with clear, confident explanations of what it means to be the embodiment of a role model in Vero Beach.
Ruby took to the microphone to introduce herself as a mover and shaker at both Indian River County Charter High School and in her community. She added she received word earlier on Friday that she is a nominee for the Bill Posey Congressional Award Medal for Service.
An active student in theater, orchestra, and student council, Ruby said her best memories from high school have been made with her friends in the drama department.
Fueled by her love of theater, Ruby thrust herself into community service by launching a drama program at a local middle school that promotes much more than a love for theater arts.
Ruby uses the middle school drama program as a platform for teaching confidence and building self-esteem in students at an extremely impressionable stage of their lives.
"I'm so sad I didn't say this on stage," Ruby said, "But what I'm looking forward to the most in the coming year is starting a program for underprivileged children that is fine arts based and theater oriented."
Though she will graduate from high school at the end of the semester, Ruby intends to continue her education at either the University of Florida or Stetson University. But no matter which school she chooses, she has already spoken with faculty at both about a plan for kicking off her new program.
A group of Ruby's close friends from high school made a surprise appearance at Friday night's pageant to cheer her on.
"She's really reliable, loyal, and trustworthy," said Nicole Alonso, a 16-year-old friend and classmate of Ruby's.
Alonso said her older sister introduced her to Ruby three years ago when Alonso was a freshman in high school.
"Since then, she's definitely been a sisterly figure to me, and she deserves this honor absolutely," Alonso said.
Ruby, surprised and honored to see her friends in the crowd, invited them all up on stage at the end of the ceremony for a group photo.
"I'm just so excited, I was not expecting this at all. I'm so blessed," Ruby said.
Miss Hibiscus 2013 Delaney Cooksey presented Ruby with her crown not long after delivering an emotional speech herself.
A fourth generation native to Vero Beach, Delaney Cooksey is the granddaughter of B.T. Cooksey, a local legend for his deep commitment to serving in his beloved community of Vero Beach and 50 years practicing law in the area.
B.T. Cooksey passed away in January, part way through Delaney Cooksey's year-long service as Miss Hibiscus.
"His love for the community was my main motivation for participating," Cooksey said as she fought through tears during her fair well speech. "He was my biggest fan."
Cooksey said she spent the year promoting her anti-bullying campaign across Indian River County by organizing events to raise awareness, making presentations in the classrooms of younger students, and publicly speaking out about the dangers of bullying and how the community can prevent them.
Now, Ruby will follow in Cooksey's footsteps, using her title as Miss Hibiscus 2014 to help improve the place she calls home even further.
John Carroll High School student Melanie Coppola, was named "Most Photogenic;" Indian River Charter High School student Rachel Parsons was named second runner up; Vero Beach High School student Alexis Simpson was named "Miss Congeniality" and first runner up.
The pageant marked the official start of the 2014 Hibiscus Festival hosted by Main Street Vero Beach. Festivities continue on Saturday with a 5K Run/walk at 7 a.m., followed by a Fine Art and Craft show beginning at 10 a.m. Events will continue throughout the day until 8 p.m., in Historic Downtown Vero Beach.