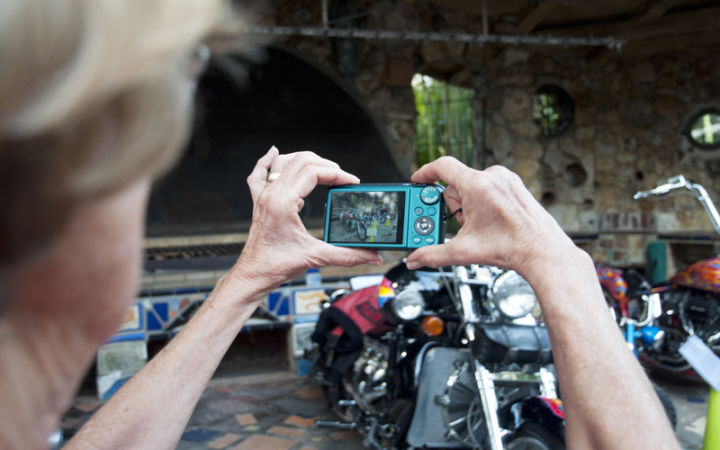 INDIAN RIVER COUNTY — Amid the tropical flora and towering royal palms, several "ponies" grazed at McKee Botanical Gardens. Those "ponies" were Ford Mustangs spanning half a century parked on the beautiful lawns at McKee.
The organization held its 5th Annual Motor Car Exhibition "Forty-Four Fabulous Fords – From Model T to Ford GT" in support of the 18-acre site that was once the largest tourist attraction in Florida.
The juried show featured some of the finest, most rare Fords from around the state ranging from a 1910 Model T to a 2014 Mustang. Also on exhibit were a 1965 Mustang Fastback, a 1958 Fairlane 500 Skyliner, and a 1959 Galaxie that is the 50 millionth car produced by Ford.
Unique motorcycles including historic Harley-Davidsons and British roadbikes such as a 1967 Triumph 500 were also featured at Saturday's event.
But Mustangs reigned at the event marking the golden anniversary – and Wayne Sanderlin of Vero Beach, a classic car collector and owner of a white 1966 Mustang Shelby GT 350, explained why.
"I know of no other car that has had any greater effect on the automotive industry and the automotive consumer than the Mustang had," he said. "Everyone wanted one because of the design, styling and size of it. No car has sold as many cars in the first year. It blew everything away."
The 1964 Mustang was the automaker's most successful launch since the Model A in 1927. The pony, Mustang's nickname for this car class that spawned a class of American automobiles – sports car-like coupes with long hoods and short rear decks – and gave rise to competitors such as the Chevy Camaro, Pontiac Firebird, Plymouth Barracuda, and Dodge Challenger, also known as "Muscle Cars."
There were plenty of Mustangs in a variety of colors spanning the half century from the iconic1964 to a brand new 2014 model at McKee.
But overall, it was a celebration of the past among owners and appreciators of all classic cars – as people "oohed" and "aaahed' over 1955, 1956 and 1957 Thunderbirds; a 1948 Ford Cabriolet; 1939 Ford Standard; and 1951 Ford Country Squire as they wandered through the gardens.
Sitting in lawn chairs next to their 1940 Ford Deluxe station wagon were Gavin and Marcia Ruotolo, of Vero Beach. The wagon has been in the family since 1953.
"The beauty of it is that it's a piece of history," said Gavin Ruotolo. "We are caretakers of the past."
The Ruotolos do more than visually appreciate and collect these classics – they use them.
"If you don't drive them, you shouldn't own them!" Marcia Ruotolo said.
While the classic cars and motorcycles were a huge draw for the steady flow of people who showed up last weekend, so too were the stunning nature at McKee and the Seward Johnson Sculpture Exhibition featuring the life-size bronze creations of American artist Seward Johnson. The exhibition, which contains installations from Johnson's series entitled "Celebrating the Familiar and Beyond the Frame," is on view through April 27.
"The Fords featured in this year's motor car exhibition run the gamut from vintage classics to modern sports cars," said Christine Hobart, McKee's executive director. "The balance of old and new, and the history that's reflected in this collection of vehicles is much like the Garden itself – both have a story to tell."