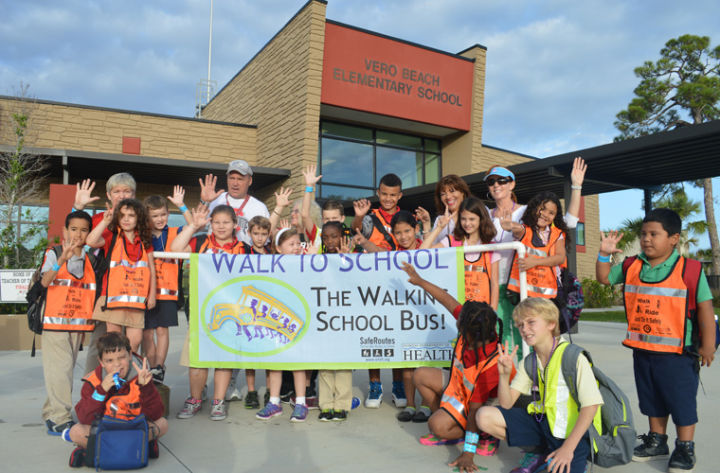 VERO BEACH — National Walk and Bike to School Day took place back in October, but one day a year was not good enough for James Batory, physical education teacher at Vero Beach Elementary.
About 25 kids, all decked out in orange and yellow safety vests, made the 10-minute walk from the Boys and Girls Club of Vero Beach to Vero Beach Elementary School, rallied by the encouraging cheers of Batory and a handful of parents and staff members.
Batory, or as the kids know him, Mr. B, has declared the first Wednesday of every month a walk and bike to school day. Wednesday's walk was the group's fifth of the school year. 
Batory's program at Vero Beach Elementary School is in partnership with the Florida Department of Health in Indian River County and part of Indian River County's "Walking School Bus."
The Walking School Bus program exists to both increase awareness around pedestrian safety and to increase physical activity of children and adolescents.
According to the U.S. Department of Health and Human Services, it is recommended that children get at least one hour of physical activity a day.
The students who participated in the morning walk with Batory gain a healthy jumpstart on their physical activity for the day.
"Walking to school is healthy and fun," Batory said, is a message that he works hard to bring to his students all year long.
Vero Beach Elementary is also gearing up for its "Jump Rope for Heart" event scheduled for Feb. 13, from 9:45 a.m. – 2:30 p.m.