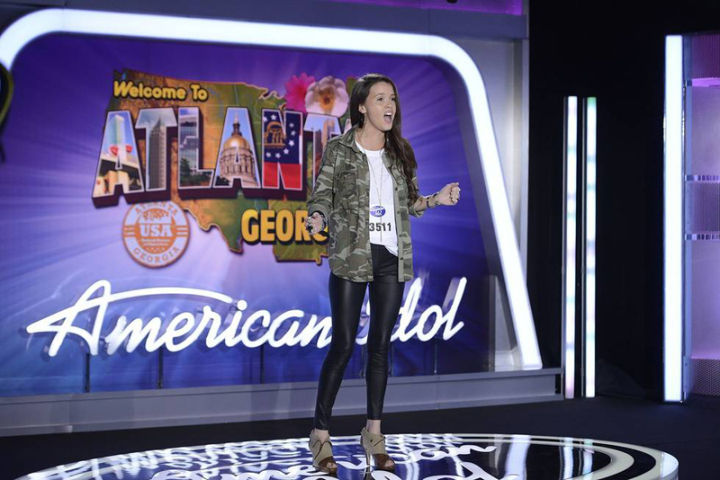 SEBASTIAN – Sebastian native Kristen O'Connor has cleared the first Hollywood hurdle on her road to becoming the next American Idol and will appear again on Thursday's episode where she will have to prove her musical talent in a group audition.
In the meantime, O'Connor is hunkered down at home in Florida and keeping her lips sealed on matters of how far she has actually advanced so far on the popular reality show and singing competition.
She impressed judges Jennifer Lopez, Keith Urban and Harry Connick Jr. at her original audition in Atlanta. But O'Connor said she did not expect to see them again until the next scheduled round at the Dolby Theater in Hollywood.
But that was not the case.
Upon arriving in Hollywood, O'Connor and her fellow contestants were herded onto buses with no explanation of where they were headed.
"We had no idea where we were going, but they took us to an airplane hangar," O'Connor said. "We sit down and then the judges come in and say they need to hear some of us again, and they sat down and just started calling people's names."
After sweating the fact that she had not warmed up her voice or tuned her guitar, O'Connor said her name was never called.
Finally, Lopez asked the confused room of contestants to raise their hands if they had not been called up to sing in the impromptu audition. O'Connor raised her hand, and was relieved to hear Lopez say, "Congratulations, you have made it to the next round."
"That's not what I was expecting," O'Connor said. "I was shocked. I thought I could be going home at any second."
The next day, remaining contestants lined up in groups of 10 at the Dolby Theater and sang short solos for the judges. Contestants were then weeded down on the spot and O'Connor survived that audition, too.
Her performance of Jessie J's, "Nobody's Perfect" was convincing enough for the judges to give O'Connor another seal of approval, sending her through to the group round, even though she was disappointed judges cut her off before the biggest note of the song.
"My family is so excited and so proud of everything that has happened so far. They know that this is something that I've always wanted and they've seen it in me since I was a little girl," O'Connor said.
Now that her dream to pursue music is well on its way to coming true, O'Connor has taken a look at some of the inspirations in her life.
"One of my personal heroes is one of my best friends, Carly. She was my roommate all through college, and this past April, she was diagnosed with Leukemia," O'Connor said.
"She's gone through so much and she has remained so positive. Her whole spirit and the fight in her has really inspired me. She's my hero for sure," O'Connor said.
O'Connor continued to describe Carly as a friend who consistently pushes, challenges and encourages her to pursue her goals and dreams.
Though O'Connor has undoubtedly made it through to the next round, there is still some time in the competition before America will find out whether or not she will make it to the Final 16.
If she does, O'Connor's fate will shift from the three all-star judges to the hands of the fans.
Thursday's episode airs on Fox from 8 to 10 p.m.