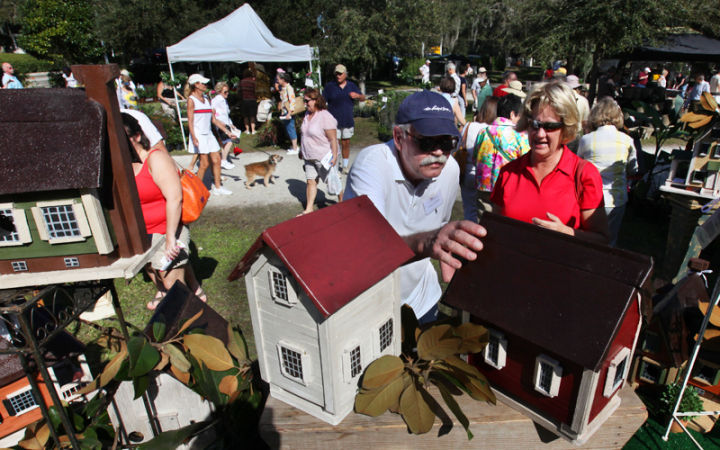 VERO BEACH — It might not look like it to visitors who come visit Vero Beach from the north, but it is possible to identify different seasons here. The transformations in color and climate are more subtle, but somewhere around this time of year, our community starts to experience sunnier and longer days, birds fly north, and the vegetation becomes more lush and green.
People in Vero Beach know Spring is coming when they see signs on the side of the road advertising a sensational botanical event sponsored by the Garden Club of Indian River County. Saturday bloomed sunny and warm for the 13th annual Gardenfest! And the event continues today from 9 a.m. to 4 p.m. at Riverside Park on the barrier island, near the Barber Bridge.
By Noon Saturday, more than 3,000 people had entered a magical world of plant paraphernalia, through the pristine white trellis. Thousands more were expected during the two-day event, held under the oak trees in Riverside Park. Last year, more than 20,000 people attended the event, and more were expected this year.
Free to the public, Gardenfest is one of the largest garden shows in the State of Florida, with something for every type of gardener – novice to expert. Gardeners bring wagons to wheel their plant purchases back to the parking lot. For those who don't bring their own, wagons are available, pulled by helpful volunteers from the Boys and Girls Club of Indian River County.
According to Garden Club volunteers and vendors, people were buying. This year, there are several new vendors, selling not only plants and flowers, but also outdoor furniture, landscape lighting, garden art, pottery, fountains, and sculpture.
The Girl Scouts are doing a brisk business selling cookies, another sign of Spring.
Several experts are on hand, in case visitors have questions about many subjects including orchids, succulents, bromeliads, bats, fairy gardens, and container gardens.
After trekking from the parking lot (golf carts are available for those who have to park near the Riverside Park pavilion), visitors are rewarded with the cool shade of the majestic oaks.
Strategies vary for navigating the maze of earthly delights. Several people surveyed the scene from the perimeter before wandering into the plethora of paths, where more than 80 vendors hawked their wares.
Florida Veggies &More, a local agricultural operation, demonstrated a hydroponic system in a greenhouse, which will soon produce tilapia in addition to growing lettuces and other vegetables. All proceeds from sales of their hydroponic systems benefit the farm itself, which provides fresh vegetables for several charitable organizations in town, including The Source and the Homeless Family Center.
"We grow for a mission, which is to feed people in need," said Lisa Brenneman, a farm employee. "But everyone needs to grow their own food."
It was the perfect day to shake off the cabin fever plaguing people who had been stuck inside during the torrential rains and chilly temperatures of the past week. Locals greeted each other and smiled at visitors who couldn't believe their luck stumbling upon the once-a-year garden of Eden.
"We are not really gardeners," said Yvonne Mosely, visiting from North Carolina, "but we are reveling in this sunshine."
Food offerings include flat bread, fresh squeezed lemonade, kettle corn, and people refreshed themselves at tables in the shade of the oaks.
Proceeds from the event are used by the Garden Club to study and assist in the protection and conservation of native plants, natural resource, scholarships, as well as many civic beautification projects throughout the county.