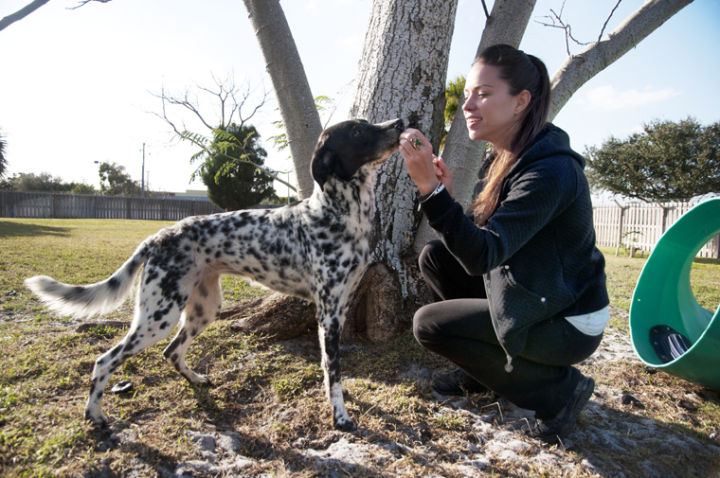 SEBASTIAN — H.A.L.O. No Kill Rescue is seeing an increase of the number of pet owners dropping off and tying up animals outside of the shelter overnight.
In most cases, people will leave dogs, but cats, guinea pigs and other animals also have been left out after dark. In 2013, about 150 animals were left outside of the shelter, an increase from 2012 when between 80 and 90 pets were abandoned.
"Animals sometimes get dropped off up to two to three times a week," said shelter founder Jacque Petrone. "There have been many times where the animals have been left in bad shape."
Someone once dropped off a box of 30 guinea pigs. One dog was so aggressive that shelter workers had to call animal control.
Petrone also said it would help the shelter if pet owners left a note containing basic information such as the animal's name, age, personality, medical history and whether it has been spayed or neutered.
Petrone thinks people take advantage of the shelter because they may be too embarrassed or ashamed of the way they have mistreated their animals.
In addition, there may have been cases where other shelters turned them down or maybe none of their friends or families have wanted to take the pets in as their own.
For example, Gem, a 9-year-old female Collie mix was found tied to the front door left in good condition with another dog, Molly.
Petrone said that the dogs were not up to date with their vaccines that they knew of and both severely needed dental care.
All of Gem's medical needs have been taken care of and now she is just waiting on her forever home. She is a bit harder to adopt because of her age, but a family will come along.
H.A.L.O No Kill Rescue shelter was founded in 2006 by Petrone, who likes to think of it as a safe haven for abandoned and neglected animals.
The shelter is always at maximum capacity with around 150 felines and 80-150 canines, along with other species.
It is H.A.L.O.'s seventh year in existence, so Petrone is worried that the numbers of animals being left outside of the shelter will continue to increase, especially as her organization's reputation as a no-kill shelter spreads through the community.
H.A.L.O. has taken action to prevent citizens from dropping off their unwanted pets under the cover of night, such as installing a security camera. Police have also been asked to do routine checks on the shelter in the evenings.
Petrone said the community can help H.A.L.O. stay a no-kill shelter by bringing their pets in during business hours rather than leave them unattended outside. That is a threat not only to the animal, but to the employees, she said.
The shelter also needs to know in advance about the animal being dropped off so it can make preparations according to the animals' needs.
H.A.L.O., according to its motto, believes in a community where there are no more homeless and that together people can eliminate the killing of companion animals, and believes that every animal deserves a second chance and that together we can make a difference.
For more information on H.A.L.O., www.halorescuefla.org and (772) 589-7297.
Jacque Petrone, H.A.L.O CEO, playing with dog Gem, who was left outside the shelter. photo by Leah Dubois