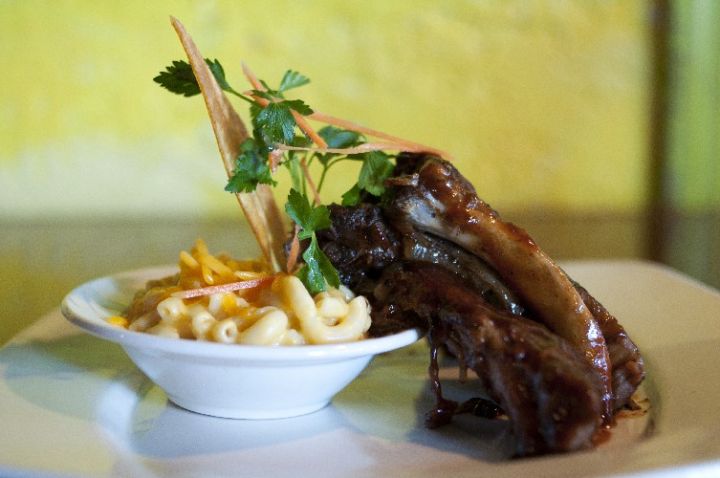 SEBASTIAN — For some reason I have never been to the Mo-Bay Grill even though Chef Wesley Campbell has been serving up his Jamaican-fused entrees for about eight years now at the cozy restaurant on US 1.
I rectified that last week when three friends and I dropped by for dinner on a dreary rainy night that quickly vanished when we entered the restaurant and were greeted by the friendly staff.
Three of us in our party got into the spirit of the restaurant and ordered Red Stripe beer ($4.29) while we checked out the menu.
Mo-Bay offers a variety of sandwiches and entrees that feature beef, chicken, seafood and goat (more on that later) so the menu takes a while to read and ponder.
For appetizers, we ordered cod fish fritters ($6.99) and the Jamaican quesadilla ($8.99.)
The fritters arrived accompanied by a cherry pepper remoulade.
About a dozen fritters surrounded the remoulade dipping dish and the combination received an enthusiastic response from everyone at the table.
The remoulade was tasty and a perfect complement to the lightly fried fritters.
The Jamaican quesadilla included a hefty helping of spiced jerk chicken and shredded cheddar cheese. The quesadilla was also served with salsa, guacamole and sour cream, all three ingredients that helped tame the heat from the jerk chicken.
Overall, it was a great dish with a spicy kick to it.
Although it has a substantial menu, Mo-Bay also offered four interesting specials on the night we were there which goes to show you how ambitious Chef Campbell is, particularly in such a small restaurant.
One member of our party, the fish lover, selected the coconut-crusted red snapper special ($18.99), his wife, opted for the blue cheese sirloin steak with garlic mashed potatoes and vegetables ($18.99), another companion went with the curry chicken ($12.99) and I decided to be adventurous and picked the curried goat ($13.99).
Our meals arrived just as we finished our appetizers, making me wonder if there wasn't a peephole in the kitchen.
Let's just say Mo-Bay Grill does a wonderful job with its presentation from appetizers to entrees and desserts. That makes me take notice because that hasn't been the case with every restaurant we've visited in recent months.
Our companion with the coconut red snapper was quick to reach his decision after just a few bites.
"This is terrific," he said. "It's hot and it's tasty."
Later, when his napkin hit the table and his plate was bare, he summed it up in more glowing terms.
"I'm stunned. I thought we were coming to a bar. This is one of the best dinners I've had."
Tall praise from a sometimes picky man.
Dinner came with rice and beans, and the vegetable of the day, a delicious blend of cabbage and carrots.
Another companion was just as pleased with his curried chicken. At one point, he leaned over and said to me he couldn't understand how the Mo-Bay Grill could offer the dinner at just $12.99.
He also thought the chicken was seasoned just right with the curry, nothing overwhelming, but enough to season the dish the way he liked it.
"I'd come back here in a minute," he said.
A third companion was very happy with her loin strip steak topped with blue cheese.
She said it was perfectly done and she loved the garlic mashed potatoes.
She said they contained enough garlic to ward off any vampires we might meet on the way home.
"I never would have expected to come in here and have a meal like this," she said.
My curried goat came with beans and rice, and the carrot/cabbage vegetable blend of the day. When reviewing a restaurant, I typically try to dive into a selection that I often don't come across and the curried goat fell into that category.
It is probably an acquired taste. It didn't bowl me over, but it was nicely seasoned and the rice and vegetables were good.
Three out of four isn't bad, but – like I indicated – goat is an acquired taste.
We wrapped up dinner with coconut rice pudding ($4.99) and banana cheesecake ($7). Both were hands-down winners.
The pudding was chock-full of coconut and enhanced with a light dusting of cinnamon. The cheese cake arrived covered in hot banana. Both were delicious.
Dinner for two at the Mo-Bay Grill will run about $75, not including tip and that includes appetizers, salads, entrees and desserts.
That's a pretty good value, but that value goes up when one considers the quality of the food, the presentation, Chef Campbell's effort in the kitchen and the overall experience.
We'll be back.
The reviewer dines anonymously at restaurants at the expense of the Sebastian River News.