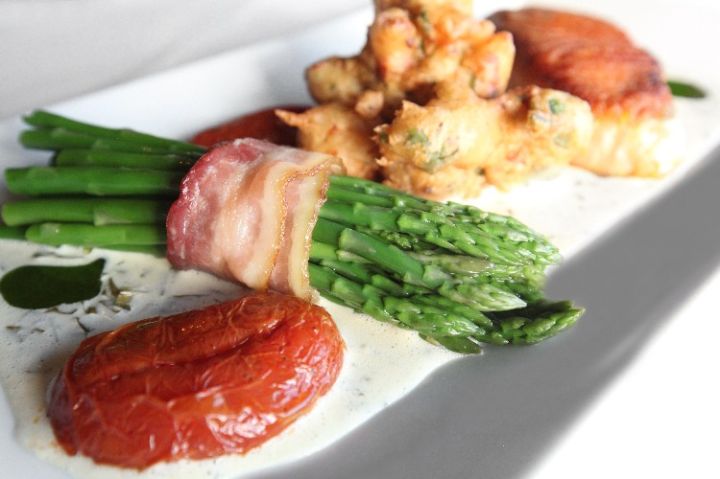 VERO BEACH — It seems hard to believe that Bijou, the tiny French Mediterranean bistro on 14th Avenue, has been part of our Vero dining scene for little over a year.
But today, as this small restaurant moves into just its second season, it is surely on every island foodie's list of the five places with the most creative, innovative dishes in Vero.
What Bijou has going for it is the same kind of imaginative approach to food as Avanzare, the Italian trattoria across the street. Not coincidentally, both restaurants are owned by Roger and Terry Lenzi.
But unlike Avanzare, one of several excellent Italian restaurants in Vero, Bijou with its French Mediterranean-inspired dishes is one of a kind.
And if you want an interesting and entertaining culinary experience, forgo the tables in the small dining room and ask for a seat at the dining bar which faces the open kitchen.
There, you can watch and chat with Chef Chuck Arnold as he produces dishes that are simple, fresh, seasonal – and to die for.
On a recent Friday evening, my husband and I took up seats at the counter and for starters, we shared the pepper seared ahi tuna appetizer ($14).
It consisted of very thin rare slices off a whole pepper-crusted tuna loin, served with a crispy wonton on coleslaw tossed in a wasabi vinaigrette, all atop a soy honey glaze with some Coleman's mustard to aid the wasabi vinaigrette in giving it a little kick. A sensational start for any meal.
We then had the soup of the day, on this evening a roasted red pepper soup ($8) served with a very light pancetta and white cheddar puff in the middle, and finished with cilantro crème fraise. A very well spiced soup.
For entrées, my husband ordered one of the specials, the pan-seared flounder ($32) and I opted for the pan-seared Scottish Salmon ($28).
The well seared salmon was served with a caramelized onion custard and fire-grilled asparagus. The dish was finished with a red wine cherry sauce and black truffle oil.
The pan-seared flounder, finished with a hazelnut brown butter sauce, was served with a spinach and goat cheese cannelloni, along with spiced oven roasted butternut squash and some shitake mushrooms.
Both of our entrees were excellent.
Then for dessert, we shared the "chef's whim" ($9).
On this evening, it consisted of caramelized bananas in a coffee anglaise and chocolate rum sauce; a scoop of peanut butter moose coated in dark chocolate; a little grape, cherry and strawberry compote and chunks of peanut butter brittle in sea salt.
Talk about an over-the-top conclusion to a wonderful meal!
Seated at the counter, we also had an excellent view of other dishes as they were plated. The duck and sea scallop cassoulet was very tempting, and the fire-grilled filet mignon and frites looked better than anything we have encountered in any French or Belgian bistro.
Bijou offers a nice selection of reasonably priced French and California wines, both by the bottle and the glass.
Dinner for two with a modest bottle of wine is likely to run $120 to $130 before tax and tip. Choose small plates for entrees, and the tab could come in considerably less.
If you haven't yet discovered Bijou, you will certainly want to visit. But you will want to call ahead for a reservation.
Those who discovered it a year ago seem to keep coming back – often.
I welcome your comments, and encourage you to send feedback to me at tina@verobeach32963.com.
The reviewer dines anonymously at restaurants at the expense of Vero Beach 32963.