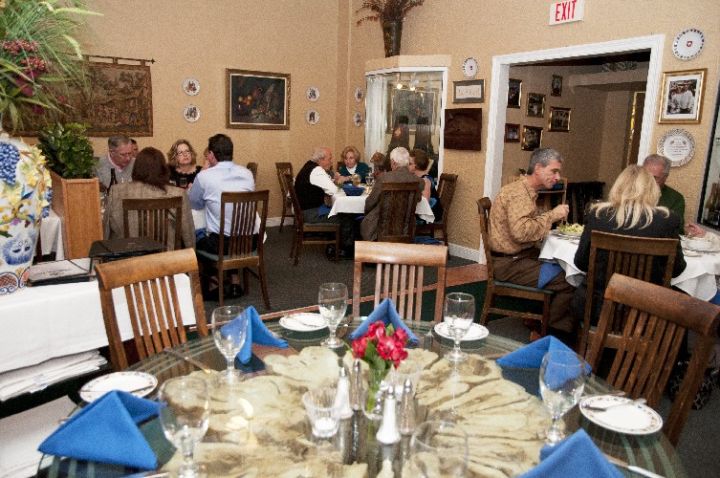 VERO BEACH — I love mushrooms! Pretty much all kinds of mushrooms: creminis, enokis, shitakis, porcinis, morels. I even like button mushrooms.
But none of these mushrooms, in my view, holds a candle to chanterelles – and the restaurant in our community that makes the best use of these wild mushrooms from the fall forests of the Pacific Northwest is the Melody Inn.
A chanterelle has a magical appeal for culinary experts, and nowhere is this more true than with Melody Inn chef Margaret Burri, who each winter manages to fly in a supply of these savory mushrooms that seem worth their weight in gold.
On a recent visit to her classic French Swiss restaurant in the quaint Seminole Courtyard in downtown Vero, we found chef Margaret had obtained a stash of these magic mushrooms from Oregon, and was preparing a variety of dishes featuring these beauties.
While contemplating our good fortune, super server Gwen took our drink order, and quickly returned with a bottle of Sonoma Cutrer chardonnay ($42 except on Tuesdays, which is half-price wine night).
For starters, we decided on this evening to forgo a couple of our favorites – the escargots bourguignon, and the best-in-town soup a l'oignon gratinee.
Instead, I ordered the roast butternut squash soup ($6), my husband chose mushroom caps with lobster tail meat ($12.50), and our companion decided to have a winter salad ($10).
The thick butternut soup with a hint of ginger was the best rendition of this dish I have ever had – just the thing for a Vero winter evening.
The mushroom caps were stuffed with big chunks of lobster in a seasoned cream cheese, and baked with parmesan sprinkled on top to give it a bit of a kick. Sumptuous.
The winter salad was a mix of romaine lettuce, spinach, and roasted potatoes in a warm bacon and sherry vinaigrette. Very European.
Then for entrées, I ordered the veal with chantrelles ($32).
My husband – who was tempted by one of the evening's specials, a filet – asked if he could have a chantrelle sauce on that as well. No problem, said chef Margaret, who proposed splitting the filet, and serving it on toast topped with the chanterelle sauce ($39.50).
Perfect.
Our companion opted on this evening for the chicken cordon bleu ($20.75).
My veal medallions were pan-sauteed in butter, topped with chantrelles flambéd with cognac in a champagne sauce. Luscious.
Our companion's chicken with ham and Swiss cheese was very lightly breaded, and sautéed to a golden grown.
My husband's angus steak, however, was the highlight of the evening – perfectly prepared rare, and topped with a wonderful chanterelle sauce.
All entrées come with a choice of vegetables, which include a Swiss potato cake, rosti potatoes (delectable crispy potato shreds), spatzli (the Alpine version of pasta or gnocchi), red cabbage, and cold beets prepared in a vinaigrette.
Never, ever, pass up the beets here.
While chef Margaret's homemade dessert offerings are always tempting, on this occasion we decided to pass, secure in the knowledge that we would still get a chocolate fix as the Melody Inn bestows truffles on the ladies to ease their departure.
Dinner for two with a modest bottle of wine is likely to run $120 before tax and tip.
As we have noted before, the perfectly executed sauces are the stars at the Melody Inn. And when you combine chef Margaret's magic touch with chanterelles, you have sauces to die for.
I welcome your comments, and encourage you to send feedback to me at tina@verobeach32963.com.
The reviewer is a beachside resident who dines anonymously at restaurants at the expense of Vero Beach 32963.