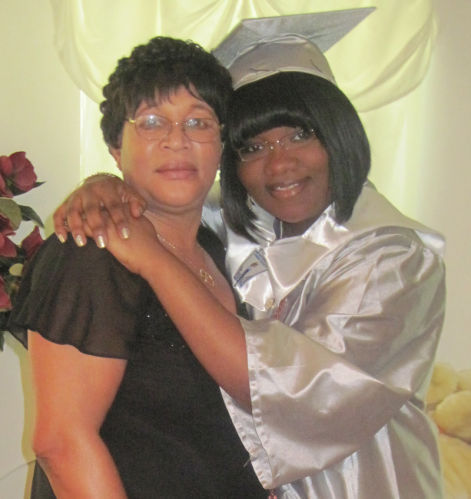 First off, take a wild guess at what state's high temp a couple of days ago was higher than Florida's.(Other than Nevada). Go ahead, just take a stab at it. We reached 91 and this state hit a sizzling 94.
Meanwhile, the photo is of one of our homeowner kids, Sondya Narcisse, and her mom, Violette Gedeon. Coming from one of the poorest countries in the world – Haiti – Violette, whose husband died when the kids were little, has worked hard to provide for her two sons and daughter.
She was at last able to bring them here to Vero Beach, and now both sons are in college and Sondya has just graduated, with honors and scholarships, from Sebastian River High School. Sondya is charming and bright, and has taken to heart her mom's frequent advice – to work hard, study hard and be the "best you can be." Habitat helps its homeowner students with home work support and, through the Prep Club, provides lots of college preparation help, including campus visits and community service projects, as well as college scholarships. The success of these students is something we greatly cherish.
So, what'd you guess? Georgia? Illinois? Arizona? Actually, it was Alaska. Maybe its just me but I never think of Alaska as being HOT! Not in the 90's anyway. It is a big state and all, but it's Alaska, for Pete's Sake. If I ever get to take a cruise through the Inland Passage, I really, really don't want to pack any shorts and tank tops.
Have a good one. And Hydrate