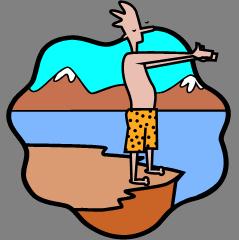 He did it before and he'll – by golly – do it again. The "he" is Home Center ReStore Manager Dave Sneed and the "it" is leaping into Habitat's big, duck- and fish-filled retention pond.
There's an "IF," too. . . . IF the fabulous Habitat Home Center ReStore breaks $100,000 in gross sales this month. (June 2013). And Sassy Sneed says, "Think I'm bluffing? Go ahead, make my day!" I'm here to tell you he did it a few years back when the Home Center broke another record sales challenge. It was hilarious.
I'm sure going to do my part. I LOVE the Home Center and, no lie, there are probably two dozen Home Center items in my home at this very moment, from floor lamps to posters, pitchers to pillows. WHAT? You haven't been there yet? Get outta town! It's not your basic Thrift Shop by any means. Check it out.
And boy was it fun watching Sneed jump in the drink.
P.S. Those swim trunks in the illustration very closely resemble Sneed's actual pants.)