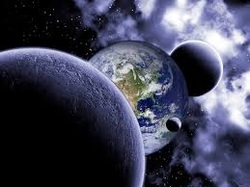 As much as we try to provide info on what Habitat for Humanity is and what we do, some misconceptions are still floating around. See what you think.
1. True or False: Habitat is an arm of the government.
2. True or False: Habitat families are required to make mortgage and insurance payments.
3. True or False: Habitat was founded by President Jimmy Carter.
'Nother Little Quiz:
1. What 3-syllable word does not contain an a, e, i, o or u?
2. What is its definition?
Let's see how you did:
1. – False; 2 – True; 3 – False
1. Syzygy; 2 – syzygy (astronomy), a straight line configuration of three celestial bodies (This is one of several definitions for syzygy.)
Did you know that YOU are invited to share dedication ceremonies for our new Habitat homeowners? Its an interesting way to see first hand the results of our partnership efforts with volunteers, sponsors and home buyers and is the exciting end of a challenging journey to home ownership for our families. They're usually held on Saturdays, either early-early (7:30 a.m.-ish) or noon. We'll let you know when and where via facebook and news releases. Next one is noon on June 22, four homes along 10th and 12th Courts SW and 12th Avenue SW. Details to come.