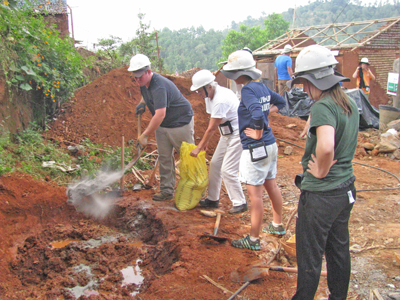 On the shallowest of levels, it is just extremely cool to be able to say, "Oh, yeah, I've been to Kathmandu."
For the 14 of us representing Indian River Habitat for Humanity who traveled to the other side of the world to participate in Habitat for Humanity International's Everest Build Oct. 7-13, the bragging rights paled in the reality of the adventure.
Some 400 volunteers from several countries (having paid our own transport) met in the teeny country of Nepal, tucked between China to the North and India to the South, to build 40 homes for families in the remote foothills of the mighty Himalayas.
Although our accommodations in Kathmandu had running water and (usually) electricity, the construction site to which we were bused each morning had neither. Working alongside the families (unfailingly gracious, hardworking and beautiful people), we helped build small, simple homes of native materials – mud and bamboo, topped with corrugated metal roofs.
We wielded battered shovels and trowels as our assignment mainly involved – mud: The recipe for the mortar with which to lay the sun-dried mud bricks and the "adobe" blend to cover the interior and exterior of the homes will, I feel confident, remain with each of us for a looooong time.
To wit: Create a mixing pit by loosening and shoveling a lot of red clay.
Next: add water; rice husks; gravel; and (everybody's fav ingredient) cow dung.
Turn ingredients carefully, mixing thoroughly until the consistency of pudding.
Plop a couple BIG shovelfuls into a shallow bowl and gracefully lug over to the crew in the house.
Repeat.
All day.
So very much more to share. . . .to be continued. Meanwhile. . .
Have a good one.