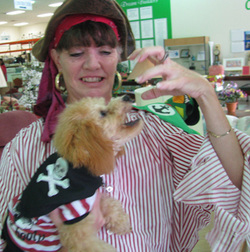 For the past three years now, our (fabulous) Home Center ReStore has celebrated national Talk Like A Pirate Day with special sale prices if you talk like and/or dress like . . . . .well, you know.
And lots of folks do.
The whole ReStore staff gets all buccaneered up. A wonderful volunteer group – young people from AMC Theatre – came in hand-painted pirate-y black t-shirts, hats, patches etc. and worked hard all day.
On Sept. 11, I happened to be attending a Chamber of Commerce luncheon up at Captain Hiram's, on the intracoastal in Sebastian. Before the meal, we paused, of course, for a moment of silence. Just out the window, at water's edge, the flag waved, at deep half-mast, the clouds were low and gray, rain threatened, the wind pushed a bit. In that small moment of quiet, it was a sobering and moving sight.
One sunny Sunday a couple of weeks back, I stood in line at a favorite spot on Vero's beach, Cravings, where you have to check your guilt and your diet at the door and just enjoy the baked treats that beckon. Waiting to order my apple croissant, I glanced down at the goody-laden baskets that lined the counter and saw packages of – no kidding – Gummy – wait for it – – –
Cockroaches!
I can do gummy frogs. I even sort of like those purple gummy worms. But. . . . .man, I just can't. . . . . .
anyway
Have a good one.