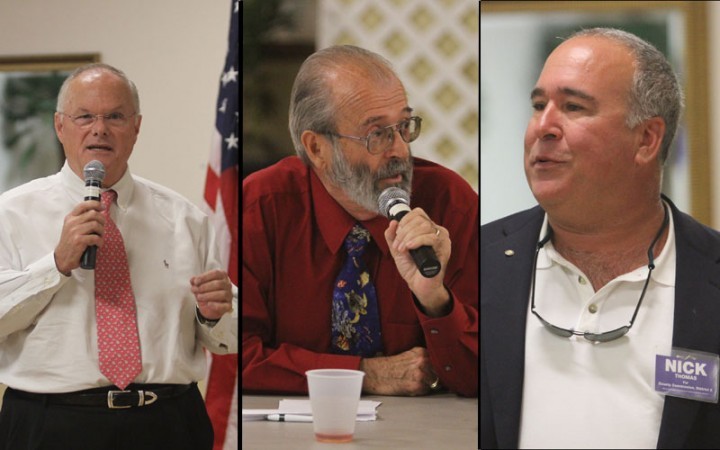 INDIAN RIVER COUNTY — District 5 County Commissioner Bob Solari may feel a bit envious of fellow Commissioner Wesley Davis this week. When the candidate qualifying clock ticked down to zero last Friday, Davis found himself unopposed in his run for a third term as District 1 Commissioner.
In contrast, Solari faces two opponents with significant political strength – island attorney Nick Thomas and former Vero Beach City Councilmember Brian Heady.
Thomas, 50, who grew up in Vero Beach, says the core of his support comes from people he went to high school with and has known for decades.
"There was one high school in the county at that time, and you literally knew every family in the community that had a kid within a couple of years of you," he says. "The feedback I am getting is, 'Yeah, Nick is the local guy. He has gone and done a lot with his life; he has a great skill set and he is our guy."
Thomas says he is tapping into a ready-made opposition to the incumbent.
"When I meet with people to tell them I am running, they jump in and say, 'Here is what we are going to do in the campaign, boom, boom, boom.' When I ask if they would like to hear a little more about me and my qualifications, they say they can tell by looking at me that I am not Bob Solari.
"That is why, at its core, I am running. I am suited to the job and I have the interest. I have a better education, more experience and a stronger emotional connection to Indian River County than Bob seems to have, but you don't jump into something like this without testing the water. This is a race where people are crying out for change."
After earning a law degree with honors at Florida State University in 1989, Thomas worked as a staff lawyer at the Securities and Exchange Commission in Washington, D.C., for four years, and then went into private practice in Raleigh, N.C., concentrating on securities law.
He says he visited regularly and maintained his local connections during the years he was away and returned to Indian River County in 2005 because he wanted to raise his son and daughter in Vero Beach, a place he calls "the gem of Florida."
His campaign slogan is Preserve and Progress. He criticizes Solari for portraying himself as a small-government watchdog of taxpayer money but not living up to that claim.
"I think some politicians nowadays are just riding this 'cut, cut, cut' thing for self-interest. If you take 20 minutes and look into it, you can see that Bob has led the charge to give away millions to various entities, all the while touting the $1,200 he saves here and there."
As an example of poor stewardship, Thomas cites Solari's support for spending $12 million to buy the Sexton Ranch development rights when he was a member of the Indian River County Land Acquisition Advisory Committee in 2007.
In that deal, the county spent a quarter of its $50-million conservation land fund not to buy land but to prevent a single square mile of the county from being developed.
"That purchase got us absolutely nothing," says Thomas. "At worst, the land would have been cut up into ranchettes with one house per five acres."
Thomas says he would not raise taxes but that as land values recover and county revenue increases, the money should be spent to upgrade legitimate government services and "do a better job of things we already do."
"Our greatest asset is our brand. Vero Beach – and by extension Indian River County – is known around the world as paradise. You cannot buy that kind of advertising.
"Under those circumstances it doesn't seem so unreasonable to plant palm trees and hire an extra lifeguard.
"Just saying 'cut, cut, cut' is myopic. We have something very special in this community that we need to preserve and protect as progress takes place."
Solari's second opponent, Brian Heady, jumped into the race a week before the qualifying deadline.
His political strength can be gauged by his ability to win election to the Vero Beach City Council in 2009 without raising any money or conducting a formal campaign.
"What got me elected were not glossy ads," Heady said at the time. "It was people talking to people. And that is a good thing."
Heady narrowly lost his bid for reelection to the city council last fall, after again refusing campaign contributions.
This time around, he plans to accept donations.
"I don't see a candidate in the District 5 race that holds views consistent with mine and with many of the taxpayers in that district," says Heady. "I have watched the votes Bob Solari has taken on the commission over the past four years and they are not consistent with what I believe. Tax dollars need to be spent by government authorities for governmental purposes."
Heady points to Solari's support of a $2.5 million expenditure for field expansion at the Vero Beach Sports Village in 2011 as an example of misguided spending.
The county owns the Sports Village but it was leased and operated by Minor League Baseball at the time of the expenditure.
"When the Sports Village came to the county commission with their hand out last year because their business model wasn't working out, Bob Solari supported giving them the money," Heady says. "That is not what taxpayer money is for. If taxpayers want to support a private business, they can buy stock."
A semi-retired businessman, Heady volunteers and works part-time for the Indian River County Veterans Council, driving veterans to the Veterans Affairs Hospital in West Palm Beach.
He says he will approach the job of commissioner much as he did the council job if he is elected.
"I promise to tell the truth and offer reasoned arguments on the issues and use commonsense.
"I will look at issues independently, and research them and try to determine what is in the best interest of the majority, or what the majority of people want. I am not going to be Robin Hood and give away taxpayer dollars to corporate entities."
Heady says his support comes from "the average taxpayer. When all is said and done, you will look at my report and see the contributions are all small amounts."
Heady's recent stint on the Vero Utilities Commission was cut short last month when he was removed from the body for using the word "bulls***" to express frustration with Utilities Commission Chair Scott Stradley.
Solari, a lawyer and businessmen who says politics is now his full-time occupation, is running for his second term. He was on the Vero Beach Planning and Zoning Board from 1988 to 1992, serving three years as chairman.
After losing his first run for county commission in 2004, he was elected to a two-year term on the Vero Beach City Council.
In his successful 2008 county commission campaign, he raised twice as much money as his nearest rival in a four-person race, taking in more than $84,000.
Solari says his base has three main elements.
"Republican woman have been extremely supportive, along with the basic middle-class community of Vero and the county," he says. "After what I have done in office, I think I am now also supported by anybody who believes in liberty and limited government."
Solari and his fellow commissioners have cut the county budget by more than 40 percent over the past four years, and he cites the county's balanced budget and low taxes as reasons why he should be re-elected.
"We left $30 million in taxpayers' pockets in the current fiscal year compared to the cost of running the county in fiscal 2007-08," he says.
Heady says he loaned his campaign the $3,300 qualifying fee he paid last week and that the type of campaign he runs will depend on how forthcoming donors are.
"I am just now starting to collect money. Over the years, there have been numerous people who have begged me to start taking money. Now, we will see if they come out to support me."
Thomas says approximately 40 people have contributed to his campaign since he announced at the end of April, more than covering the qualifying fee.
He says he thinks it will take between $30,000 and $50,000 to conduct a winning campaign and that he is confident of raising the needed money.
As of March 31, Solari had raised $22,200 for his re-election effort.
District 5 includes the barrier island south of State Road 510 and the mainland east of U.S. 1 south of 45th Street, encompassing the city of Indian River Shores, much of the city of Vero Beach and unincorporated areas south of Vero.
Candidates for the county commission have to live in the district they run in but are elected at large.
Since all three District 5 candidates registered as Republicans, the race will be decided in the Aug. 14 open primary.
Because the winner of that contest will not face an opponent in November, Democrats and independents can vote in the primary along with Republicans.