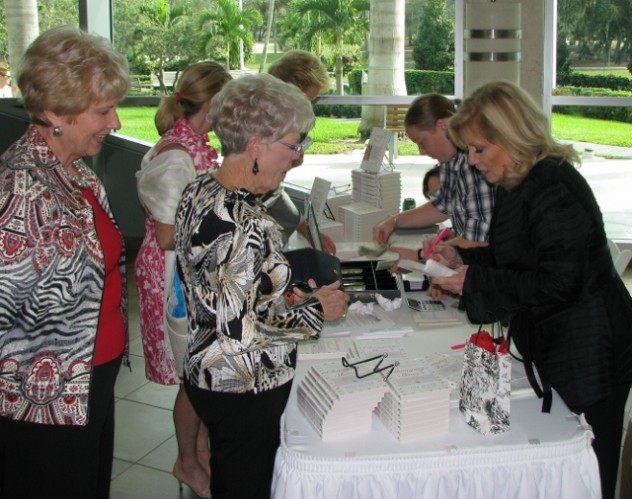 VERO BEACH — A sold-out crowd of close to 500 of Vero's fashionable ladies put their finest footwear forward for this year's Riverside Theatre Friends Fall Luncheon and Play, which featured soap-opera star Tina Sloan in a one-woman show based on her book, Changing Shoes.
I got involved because of a love of the theater," said Shay Connors, co-chair of the event with Ann Dillon. "For a town this size to have the types of productions we have us wonderful. I wanted to be able to do something to help raise money to continue these wonderful programs."
"I'm from Atlanta and we've been going to plays there for years," agreed Dillon. "When we moved here we were so thrilled to have such a great theater right here."
It's always a treat seeing how members of the creative Friends committee decorate for the occasion, and this year's colorful décor didn't disappoint. Towering shoebox centerpieces overflowed with brightly colored tissue paper and designer shoes atop vibrant hot pink and lime green tablecloths. The fabulous footwear was on loan from Kemps, Kemps II and Dede's Shoes.
"It's all about shoes," said Sherry Brown, who was in charge of the decorations. "We just got creative. It came out really well and it was very cost effective."
The theme of the lunch was centered around the book Changing Shoes by Tina Sloan, who is best known for her 26-year career on the soap-opera Guiding Light. In the book and its related play, Sloan speaks about the meaningful times of her life, as recalled through favorite pairs of shoes.
"It's the sorts of things all of us women can relate to," said Friends chairwoman Anna Bain Slater.
After lunch Alan Cornell, Riverside Theatre CEO jokingly greeted the ladies from the Stark Stage saying, "It's a brave man who steps out onto an empty stage in front of a room full of women."
Cornell thanked the group for their dedication adding that their fundraising efforts had raised approximately $400,000 last year, equivalent to the amount needed for one of their big productions.
Sloan came out onto a simple stage with a few props set against a backdrop of shoes and shoeboxes, and began speaking of the dilemma of finding just the right shoes to wear on the Emmy red carpet after the cancelation of Guiding Light.
The sights and sounds of Paris ensued as she slipped on a pair of pink Capezios and was transported to her first visit to Chanel at age 18. There, the woman she called her Parisian muse of shoes, told her, "The most important thing in life is knowing what shoes to wear. Otherwise, your feet won't know where to take you."
Sloan followed the black Chanel heels she purchased in Paris to New York City where she landed her first television commercial and eventually the spot on Guiding Light. Her journey recalled life's peaks and slumps through shoes, sneakers and slippers, and eventually to a pair of pink boots which saw their way to the top of Mt. Kilimanjaro.
On the way home after the successful climb, she purchased another pair of Chanel shoes at the airport, what she now calls her mountain climbing shoes, to commemorate never giving up.
"The show was canceled; I had a new mountain to climb," said Sloan, adding that she had found the shoes to wear to the Emmys.
Sloan graciously met with attendees afterward to sign copies of her book, but if you were unable to attend, autographed copies are available at the Vero Beach Book Center.