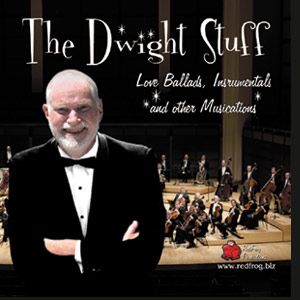 VERO BEACH — After many years of producing Christmas albums exclusively for family and friends, music man and Vero Beach resident Dwight Townsend is dipping his toes into the public arena with his newest release, "The Dwight Stuff – Love Ballads, Instrumentals and other Musications."
With top-notch musicians from the Dallas Symphony Orchestra, Dwight and his arranger Don Zimmers, have produced a tribute to an era when great music and memorable lyrics were so much the standard of a generation in love.
"The Dwight Stuff will truly be appreciated by fans of that particular bygone era," says professional industry reviewer Kelly O'Neil (www.reviewyou.com). "The vocal deliveries, lyrics and instrumentation all do justice to the style and the overall mix is stellar."
Townsend is an accomplished baritone who began his singing career as a member of the prestigious Yale Whiffenpoofs during his college years. Through the decades he has appeared as the opening act for many talented comedians, including Joan Rivers and Rodney Dangerfield.
His smooth, relaxed stylings bring back visions of The Rat Pack and summers spent vacationing in the Catskills.
"The vocal pieces on the album are appealing to any fans of Mel Torme, Matt Monroe or Robert Goulet," continues O'Neil. "Townsend has done a fine job of breathing new life into an old art form."
Kelly's complete review can be read on the ReviewYou website (http://www.reviewyou.com/dwight-townsend-the-dwight-stuff).
Included in this newest release are several songs that are close to Dwight's heart.
"Vero Beach," inspired by his Florida city of residence, features a soothing guitar solo with the subtle lull of ocean waves dancing softly in the distance. The "Vero Beach" music video can be viewed on YouTube (http://youtu.be/SaZlBQZmegI).
"Carmen" is a cozy theatrical ballad sung by a man reliving memories of a lifetime of love with one special lady.
"I Wish I Could Hold My Baby Again" describes every dad's lament at watching his daughter growing up.
Grammy-award winning producer and engineer Phil York was responsible for tweaking the knobs and creating a well-balanced mix for "The Dwight Stuff." Located in Irving, Texas, York's company, Yorktown Digital Works (www.yorktowndigital.com), has recorded three Grammy winners, 50 Grammy candidates, and gold and platinum hit recordings.
"Working with the great creative talent of Dwight Townsend has been the highlight of my 46-year recording studio career. It will always remain so," says Phil. That's no small praise as York's resume includes recording a number one national hit single in five different music styles, as well as the songs to the Oscar-winning motion picture Tender Mercies in 1982.
"Dwight has a marvelous talent for composing melodies and lyrics, whether they are love songs, Broadway-type showcases, country tunes or exotic Latin ballads," adds arranger Don Zimmers. "Dwight is a natural musician, and I'm always amazed at his unique abilities."
With this release, Townsend has demonstrated tenacity in proving that it's never too late to follow your dream. The Dwight Stuff is a culmination of hard work from his entire creative team.
Dwight's production company, Red Frog Productions [redfrogmusic@comcast.net], has enlisted the Internet fulfillment company CD Baby to assist with marketing and fulfillment for three retail collections.
To preview "The Dwight Stuff," "Hello Again," and "Encores," visit Dwight Townsend's website (http://www.redfrog.biz). There, visitors can sample his tunes and read insights of recordings. Weblinks are available to purchase each set or to download 99-cent tracks individually via iTunes.