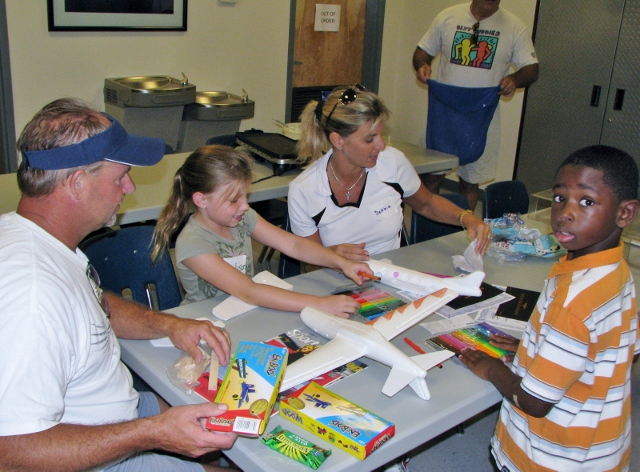 VERO BEACH — The nearby buzz of several small airplanes generated awed murmurs of excitement Saturday morning as members of the Vero Beach and Fort Pierce chapters of the Experimental Aircraft Association (EAA) introduced a group of Youth Guidance children to the EAA Young Eagles program.
"The idea is to get young adults interested in aviation. It just might be that we take a kid flying and it's a seed that plants. It might not come out until 30 years later," said EAA member Ken Mishler.
He related with delight one particularly successful introduction a number of years ago that prompted a young girl to soar to new heights.
"I let her take control and fly the plane. She was thrilled – she went dancing with the clouds. She was so proud of herself. I got a letter a few years ago that she'd been accepted into the Air Force Academy."
While not all EAA members have their own planes, or even a pilot's license, one characteristic they unquestionably share is an infectious enthusiasm about aviation and a desire to pass on their knowledge to the next generation. The event on Saturday, including the cost of the gas and the use of the planes, was all provided by members.
"The biggest thrill for us is having the kids," said flight instructor Michael Young.
"They come here and they've never seen an airplane up close," agreed Gene Gagliardi. "Some of them are shaking with excitement. They come back after flying and have a smile on their face from ear to ear."
A fire destroyed the Vero chapter's meeting room hangar 15 months ago, prompting a forced hiatus of the local Young Eagles program. As a result, Saturday's celebratory reopening of the facility and the program was particularly spirited.
It was a morning filled with all variety of aeronautical activities and crafts. While they waited for the ultimate thrill of an actual airplane ride, kids took over the controls on a flight simulator, constructed and decorated Styrofoam airplanes and received navigational instruction from Keith Gordon in a Flight Safety classroom across the street.
Pointing to a few EAA members as they whipped up batches of pancakes, Barbara Schlitt Ford, Youth Guidance executive director smiled and stressed, "They get the pancake breakfast after they're taken up."
Young Dakota was still floating on air as he came back to the hanger and exclaimed, "It was awesome! I got to fly the plane all by myself to the Wabasso Bridge. We had to do a complete circle."
"The best part was when we were taking off; it was exciting," agreed Marcus with a huge grin.
Each child went home with a Young Eagles Certificate, indicating that their names had been entered into the world's largest logbook at the EAA Air Venture Museum in Oshkosh Wisconsin. They were also given their own Pilots Log Book, noting the morning's flight information, and various other handouts on learning to fly.
"Our goal is to promote general aviation," said EAA Vero Beach chapter president Mike David. "This airport generates tens of millions of dollars each year. Getting kids involved and getting them thinking about becoming a pilot is what keeps the aviation industry strong and keeps new pilots coming."
Like many fellow EAA members, Mishler has taken the group's motto of "Dream It, Build It, Fly It" to heart. He built his first Velocity plane in an especially large garage more than 10 years ago, and has been caught up in the aeronautical world ever since.
"I wanted to go fast and have a nice looking airplane," he explained. "Velocity in Sebastian had everything I was looking for and I decided to buy a kit and build it myself. It's a big boy model plane."
Sporting a rear-mounted propeller engine and canard-design wings (little wings in front, big wings in back), the high performance airplane looks unusual, but performs exceedingly well.
"The windshield is on the wrong end," Mishler said with a laugh.
A trained mechanic, Mishler had been in the automotive business and owned two service stations in Vero Beach which he sold after developing a passion for flying. He had no doubt that he had built his first plane correctly, but does admit to the slightest trepidation the first time he taxied it down the runway.
"There are several things you remember in life. For me one of those moments was when the tower said, "You're cleared for takeoff," and you just push the throttle forward."
In addition to that first four-seat plane, he also purchased a flashy two-seater that had minor damage caused by the former owner/builder during a landing incident. He repaired it in less than a week and flew it home, and is now close to completing a third, larger plane with a bigger engine.
Mishler has worked on various Velocity projects since 2005, including the construction of unmanned aircraft for military defense contractors, and the design and development of a rear-mounted twin engine plane.
"With the economic downturn a lot of the kit manufacturers have gone by the wayside, but Velocity is holding on and coming out with new product," he says of the company which was established in 1984 by Danny Maher and bought in 1992 by Duane Swing and his son Scott Swing.
"The experimental market is evolving. All the electronics that are in production airplanes started in the experimental market."