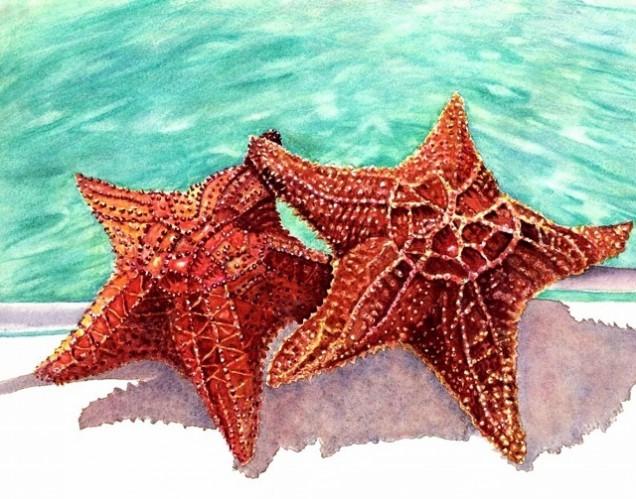 VERO BEAC H — Gallery 14 proudly presents It's Time to "UNWINED": Watercolors by Colleen Nash Becht. A watercolorist living on the Treasure Coast of Florida, Becht has been recognized and published by International Artists' Magazine, and most recently created the artwork for the new wine label "UNWINED."
The exhibit, running from Tuesday Oct. 4 through Saturday Oct. 29, will be filled with Becht's bright, colorful images which reflect strong light, shadow and close up perspectives. The public is invited to an opening reception to be held on Friday night Oct. 7 from 5 – 8pm.
The festivities will open the new season of the Downtown, Dine and Design Friday Night Gallery Strolls. In honor of Ms. Becht's label, a special wine tasting will be sponsored by Southern Eagle Distributing.
Also showcased will be works in oil, acrylic, watercolor, graphite, collage, pastel, mixed media, jewelry and photography by Gallery 14 partner artists Edgardo Abello, Lila Blakeslee, Barbara du Pont, Mary Ann Hall, Virginia Knapp, Barbara Landry, Deborah Morrell Polackwich, Dorothy Napp Schindel, and Exhibiting Artists: Francis Mesaros, Minakshi De, Carole Keller, Carol Staub and Viola Pace Knudsen.
Hours: Tuesday through Friday 10am – 5pm, and Saturday 10am – 2pm. Closed Sunday and Monday. Gallery 14 is located at 1911 14th Ave. in the Downtown, Dine and Design District of Vero Beach – The Art Destination of the Treasure Coast.
For more information call 772 562- 5525 or visit: www.gallery14verobeach.com.