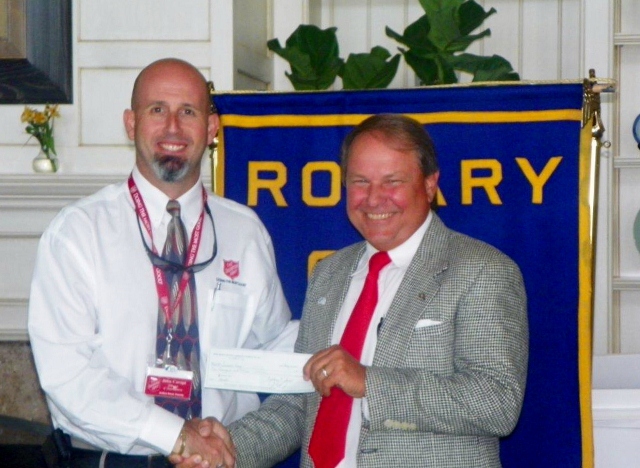 VERO BEACH — The Salvation Army of Indian River County a ministry and faith-based social services organization received a donation of $1,000 from The Rotary Club of Vero Beach designated for summer camp use to help with The Salvation Army's Summer Day Camp program for children during summer break.
The Funds will help off-set the cost of sending a child to day camp with activities such as trips to go bowling, Disney, Kennedy Space Center, the Movies, Roller Skating just to name a few.
The Salvation Army of IRC is committed to helping those in need achieve personal growth and self-sufficiency through all available resources, community partnerships and local volunteer networks we count on community generosity to help sustain us each year. We do our best – we stretch a dollar bill to unbelievable lengths to "Do The Most Good" with the donations we receive.
The Rotary Club of Vero Beach was established in 1926 and is sometimes referred to as "The Mother Club" in Indian River County as being the oldest service club in the region. There are now five other Rotary Clubs in the county. The club has been involved in diverse community and international projects that have benefited our community and the world. All this is done through the wonderful contributions and volunteer hours of the dedicated members over the past 84 years.
The mission of Rotary International, a worldwide association of Rotary clubs, is to provide service to others, to promote high ethical standards, and to advance world understanding, goodwill, and peace through its fellowship of business, professional, and community leaders.
To find out how you can help call the Vero Beach Corps at 772-978-0265.