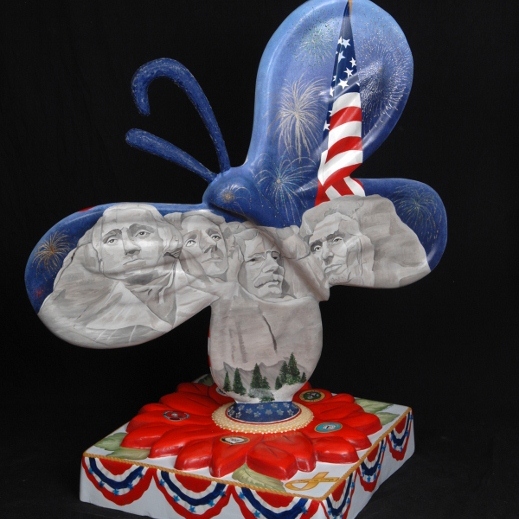 SEBASTIAN — Barbara J. Sharp, a resident of Sebastian and a nationally recognized artist, recently completed painting a five-foot by four-foot fiberglass butterfly, as a fundraiser for the St. Louis Barnes-Jewish Hospital's pediatric hospice and palliative care Wings in the City program. The butterfly replica was one of fifty-four in the collection that went to auction in April raising $1.3 million dollars for the Jennifer and Jim Koman Expressive Therapy Program.
Sharp's "Born in the USA" butterfly, fetched $32,000, and displayed elements of the American heritage that represents the pride and graciousness of freedom. It was adorned with paintings, glass beads and mosaic pieces creating the Statue of Liberty, American flag, an eagle, the four presidents of Mt. Rushmore with skyrocketing fireworks, seals of the Armed Services and more. It was purchased by a private buyer who has donated it to the USO at the Lambert Airport in St. Louis.
Many residents of Indian River County will recall the Mental Health Association's public art display TutleTrax fundraiser that began in 2004 when fiberglass turtle replicas were painted to help underwrite the programs offered by the non-profit organization. Sharp participated with that highly successful program for several years.
It was during this period that dual Vero Beach and St. Louis residents Jennifer and Jim Koman met Barbara Sharp and became enthralled in the TurtleTrax campaign. It planted the seed of an idea for the Koman's as they searched for the best way to grow an endowment in their name to benefit Expressive Therapy services for the Wings program, for children with life-limiting or life-threatening illnesses. The program will help these children and their families identify, cope and share their feelings using art, music and dance to promote expressions of feeling while reducing pain, anxiety and fear.
Sharp is also recognized nationally for works that include everything from custom designed fabrics to commissioned portraits. She is actively involved with Save the Chimps, painting many chimp portraits for their fundraising events. Her work is regularly shows in galleries in Vero Beach as well as Delray Beach, Florida and Nashville Tennessee.
With an eye for colorful and whimsical paintings, Sharp approaches all her work as a blank canvas and designs accordingly for public and private art. Her most recent public art, a 13 foot by 24 foot mural, is located in the alley way between the Lazy Daisy and Casey's Restaurant on Azalea Lane on the Barrier Island in Vero Beach. Building owner Nancy Cook commissioned Sharp to paint a Bahamian theme with a montage of shopping bags that list each of the shops located within the building.
Her two most recent "trompe l'oeil" (French for "fool the eye") projects are located in a condominium porch on the Barrier Island that faces the Intercoastal Waterway. The mural consists of potted plants, hummingbirds and butterflies. A backyard walled and pool equipment fence in yet another island home depicts the ocean with a bikini flung over the top of the fence.
For more information on Sharp and her work, call 772-532-4001, email Sharpart@earthlink.net or visit www.Sharpartdesigns.com.