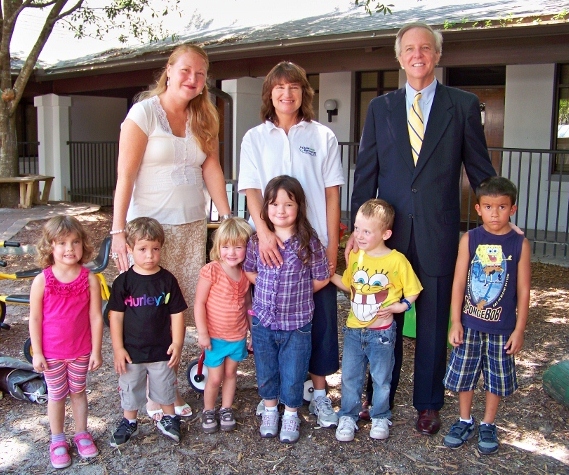 VERO BEACH — Childcare Resources of Indian River is pleased to announce that the Childcare Resources Education Center has been designated by the PNC Grow Up Great program as an official volunteer site. PNC Grow Up Great is a ten-year, $100 million bilingual initiative to improve early childhood education.
Through PNC Grow Up Great, PNC employees receive 40 paid hours off a year to volunteer and help increase the potential for young children to succeed. PNC employees will partner with Childcare Resources by volunteering at its Education Center, which provides affordable quality early education for 53 children ages 6 weeks to 4 years from working families.
"Extensive research indicates that the return on investment in high-quality early education and school readiness initiatives are significant and long lasting-impacting our children, our society and the health of our economy," said Kevin Grady, market executive for PNC Wealth Management in Vero Beach, speaking on behalf of The PNC Foundation.
About Childcare Resources
Childcare Resources makes quality childcare affordable for income eligible working families living in Indian River County. The organization assists working parents with childcare tuition to enroll their children at local accredited childcare centers and in its opened Education Center. Childcare Resources also provides a wide variety of parent education and family support programs as well as professional development opportunities for early educators.
The Childcare Resources Education Center is the culmination of a long recognized need in Indian River County for more quality, affordable infant and toddler care for working families. It is located on the campus of Trinity Episcopal Church in Vero Beach and is open Monday – Friday, 6:30 a.m. – 5:30 p.m. The organization is also the proud recipient of a 2010 Indian River Impact 100 award in support of the Education Center Infant Suite.
For more information about Childcare Resources, please call 772.567.3202 or visit ChildcareResourcesIR.org
About PNC Grow Up Great
The PNC Foundation, which receives its principal funding from The PNC Financial Services Group, Inc. (NYSE: PNC), actively supports organizations that provide services for the benefit of communities in which it has a significant presence.
The foundation focuses its philanthropic mission on early childhood education and community and economic development, which includes the arts and culture. Through its signature cause, Grow Up Great, PNC has created a 10-year, $100 million initiative to enhance early childhood education and school readiness. For more information on Grow Up Great, please visit pncgrowupgreat.com.