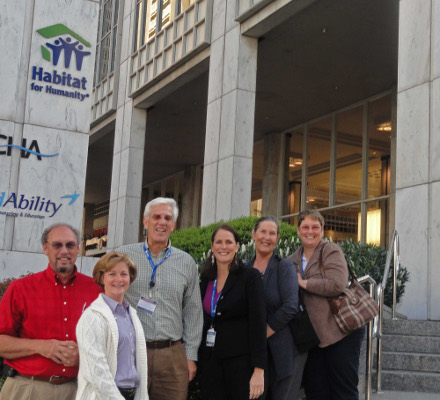 INDIAN RIVER COUNTY — At the Habitat for Humanity 2011 National Affiliate Conference in Atlanta, GA, Indian River Habitat for Humanity was, for the fourth time, named Affiliate of the Year.
Each year, one Habitat affiliate is recognized in each of three population categories based on the number of families served locally through homes built, and internationally through tithe contributions. The local affiliate was recognized for its service in the category of 50,000 to 250,000 people. IRHFH was founded in 1991, and has built more than 235 homes within Indian River County.
Indian River Habitat staffers who joined the 2,000-plus attendees at the conference venue, the Hyatt Regency Atlanta, included Larry Gibson, Construction Services Manager;  Sara Mayo, Financial Controller; Andy Bowler, President/CEO; Shirley Reul, Development Associate; Peggy Gibbs, Development Manager; Susan Reaves, Operations Manager and Lindsey Goodall, Assistant Operations Manager, Family Services.