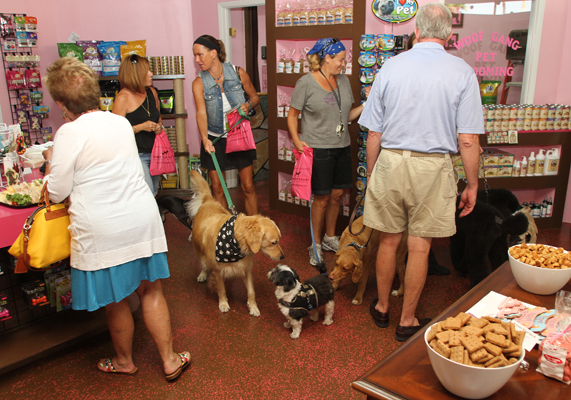 VERO BEACH ­- Woof Gang Bakery hosted their first Vero Beach "Yappy Hour" Thursday, in part to benefit Dogs For Life, a non-profit organization who trains service dogs.
"It's very expensive to train a service dog, and Dogs For Life is a really great organization," said Woof Gang Bakery Co-Owner Erinn Schnur.
From 6 p.m to 8 p.m., everything in the store was 15 percent off regular price.  In addition, 15 percent of the sales from the event went to Dogs For Life's new training facility adjacent to their dog park in Vero Beach.  Nearly half the cost of the $300,000 Training Center has been secured through pledges and donations to date.
"This is the first Yappy Hour we've held since we opened six months ago," Schnur said. "We're going to start doing monthly Yappy Hours, as we do it in our Palm Beach Island and Stuart locations.  It's kind of a fun thing for our customers to bring their dogs to.  They come into the store and meet other dog lovers and their dogs."
Woof Gang Bakery Vero Beach specializes in healthy, natural pet foods and treats, including hypo-allergenic, wheat-free and grain-free selections, plus food, treats and supplements specially formulated for hip and joint issues. The store also offers a wide variety of fuzzy, floatable and tough toys, as well as fashionable accessories, collars and leads, and a wide range of pet grooming products.
Drawings for several prizes were held at the event, including a year's a membership to the Dogs For Life dog park, and a free grooming session with resident dog groomer, Danica David.
"We're so thankful Woof Gang invited us over to their beautiful store for their first Yappy Hour," said Dogs For Life Founder and Executive Director Shelly Ferger.  "We've got a nice crowd here, and a lot of them are dog park members.  There are also quite a few people we've never seen before, so hopefully we can drum up some new business."
The organization has owned the 4.5 acres their dog park sits on for four years near Vero Beach Elementary, and they leased the property for 12 years before that.  The new indoor training facility will feature restrooms for park members, as well as facilities to train the dogs in when weather doesn't permit for outside training.