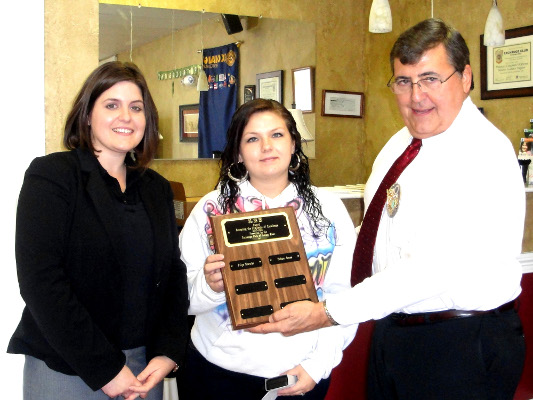 VERO BEACH — Exchange Club of Indian River named Paige Shawler and Dalton Jones, seniors at Vero Beach High School, winners of its Accepting the Challenge of Excellence (ACE) Award.  
Paige was recognized by the Performance-Based Diploma Program (PDB) for her outstanding commitment to improving herself as a student and a person. Through her hard work and her selfless spirit, Paige is looking forward to earning her certificate in the school's Culinary Arts program. She plans to continue her education at Indian River State College, majoring in Culinary Arts and Nursing.
Dalton Jones, who was unable to attend the presentation, has excelled academically despite many obstacles this year. He was nominated for the ACE for his work ethic, sense of respect, and readiness to lend a helping hand. He is seeking a certificate of completion in building construction and hopes to pursue a post-secondary education.
Scott Wallace presented the ACE to Paige at the club's weekly luncheon meeting at Culinary Capers. Wallace, who chairs the club's ACE Awards committee, also gave her an engraved key chain and a check for $50 and added her name to the perpetual plaque that hangs in the PBDP office at the high school. Shannon D. DuPlessis, coordinator of the PBD Program, introduced Paige and told about her academic and personal accomplishments.
Exchange Club of Indian River meets for lunch at Culinary Capers each Wednesday at noon. Meetings feature programs on a wide range of business, government and civic, charity, personal, and professional topics. It provides the community with programs in youth activities, service, and Americanism.
Further information about the Club is available from 2010-2011 Exchange Club president Andrew Molloy at 772-473-4416 and at the club's websites, http://www.exchangeclubofindianriver.org and http://www.bluewateropen.org.