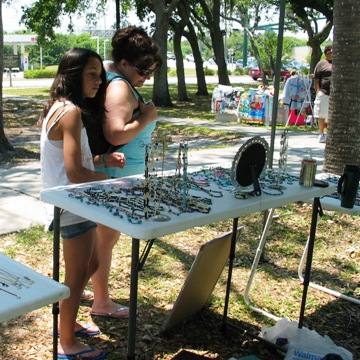 SEBASTIAN – Just driving by Riverview Park on US 1, mom Tammi Redden and her 12-year-old daughter, Allie, decided to stop and check out the crafts during the Sebastian Craft Club's final show of the season.
"She actually wanted to spend the day with her mom, which doesn't happen very much," Redden said of Allie. Allie added that she knew spending the Saturday with her mom would not get her off the hook come Sunday – Mother's Day.
The pair walked from booth to booth, checking out the various crafts. They stopped at one, where Allie found a bracelet she wanted. They also stopped to talk to Karen Losher, Craft Club member and owner of Jewel of the Rockies – Custom Jewelry and Beadwork, after spotting beaded bookmarks and pet jewelry.
"A bookmark for the books you don't read," Tammi quipped.
"I read!" Allie retorted.
The pair giggled and continued walking.
Fellow mom Jeanne Pageau stopped at the show with her daughters Paris, 9, and Heather, 6, after the girls finished their karate lessons.
"It was spontaneous," Jeanne said.
She picked up a couple engraved keychains for the girls from Acrylic Reflections – Hand Carved Acrylic Art.
"If I see something I like, are you going to pay for it?" Jeanne asked Paris and Heather, teasing them.
The girls already had something planned for their mom on Sunday.
Ronald Coleman, of Acrylic Reflections, said the show was treating them rather well, considering most the snowbirds had left. Near the end of the show, only a handful of keychains remained.
Fellow Craft Club member Shirley Hyatt agreed the show was going well, but slower than she had anticipated.
"It is what it is," she said of the crowd, noting that normally there are a hundred or so dog walkers who peruse the show – only a few had shown up.
Jean Adams, another club member, said she couldn't be happier with the show, pointing to the half-dozen handcrafted bags left on her table.
"I'm almost out of bags," she said, noting they seemed to be especially popular with Mother's Day the following day.
"I've got to get home and start sewing for October," Adams said.
October is when the Craft Club's shows are expected to return to Sebastian's Riverview Park.
Adams, a 5-year member of the club, said she keeps coming back because "I love to sew and I like to make bags." She added that the club consists of great, friendly people.
Sebastian Craft Club President Karen Lampiasi said the last show of the season was great with a steady stream of people – including far more children than is typical.
"I think it's why they're shopping," Lampiasi said of Mother's Day.
The overall season was rather successful, according to Lampiasi, based on the amount of money the club made and could hand out to local charities.
This season, the club tripled the amount it could give over last year, going from $600 to $1,800.
This year, HALO Animal Rescue, the Ecumenical Council Food Pantry, Meals on Wheels and Hospice of Indian River County-VNA, each received $450.
"Next year, just wait to see what we'll give," Lampiasi said, adding that the group is driven to raise even more than this year.
Anyone interested in learning more about the Sebastian Craft Club, can visit SebastianCraftClub.com or call (772) 388-5244.