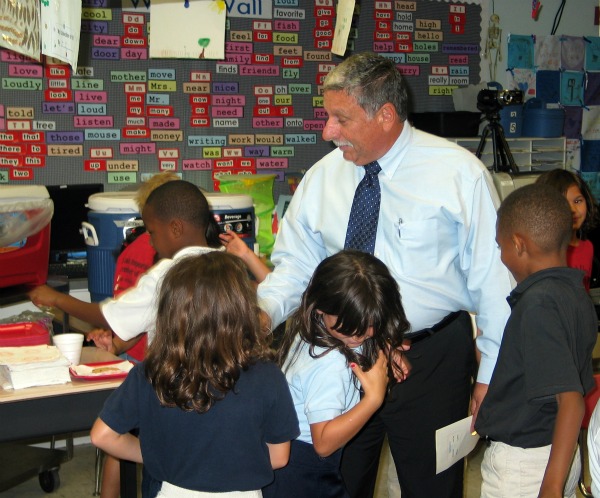 VERO BEACH – Mrs. Karen Whelan's first grade class marked the end of Poetry Month with a special event – one that sent the children on several adventures while never stepping foot outside their Vero Beach Elementary classroom.
"I just want them to have fun with poems," Mrs. Whelan told the assembled audience, which consisted of parents, Principal Bonnie Swanson and Schools Superintendent Dr. Harry La Cava.
Reciting poems learned in class, each student took the microphone and sent their fellow classmates on one adventure after another.
Jonathan Ballantyne led off the students, reciting Shel Silverstein's "Invitation," and once he hit the final lines, he crooked his index finger adorned with a witch's nail, beckoning his classmates to "Come in! Come in!"
One after another the students performed, each one receiving cheers and applause for their work. Some had made construction paper cut-outs to help illustrate their poem. Others wore their props atop their heads.
"They're so spontaneous," Mrs. Whelan said of her students, noting that they individually decided to use props for their poems – it wasn't required.
Nathaniel Funez couldn't see the audience while wearing an oversized hardhat that came down to his nose. The reaction from the students and adults alike almost threw him into a laughing jag as he recited "I Dig, Dig, Dig."
Joselin Blanco wore a regal crown as she performed "Notice: Frog in Hat" and, upon completion, turned the crown inside-out to reveal the frog within.
"Can we do it again?" one boy asked after everyone had taken their turn on stage.
For Mrs. Whelan, it was a first for her to have the students perform their poetry and she seemed pleased with how it turned out.
"What I wanted was laughter," she said – and that's exactly what she got.
When Nathaniel Rodier took to the microphone, clutching a cut-out of a fish to perform "My Fish Can Ride a Bicycle," he started to laugh uncontrollably, prompting his classmates to start laughing.
Mrs. Whelan stepped in and got the students to focus on taking three deep breaths – the laughing subsided, almost. In a moment, Rodier was laughing again and needed a second round of deep breathing to rein himself in.
April was Poetry Month, a month Mrs. Whelan's class devoted even more time to poetry than other months. She said the students spend the year with a bit of poetry, but it ramps up in April.
"It's nice," student Danielle Stone said of poetry.
"It's fun," another student said.