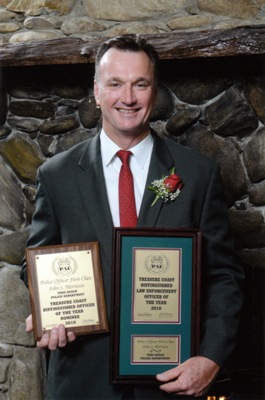 FORT PIERCE – Being named the 2010 Treasure Coast Officer of the Year was the highpoint in the career of veteran Vero Beach Police Officer John Morrison.
Morrison was selected as the winner of the Fort Pierce Police Athletic League Treasure Coast Officer of the Year and received $1,000 from the VanDuzer Foundation and a plaque from PAL.
Scott VanDuzer, joined by members of the VanDuzer Foundation Board of Directors, presented the award on April 9 during the 6th Annual Treasure Coast Police Officer's Ball held at the Pelican Yacht Club in Fort Pierce.
"I am very proud to have won the PAL Law Enforcement Officer of the Year Award," said Morrison. "This is the highlight of my career in law enforcement and it is the first time that I received an award like this."
Morrison has been with the Vero Beach Police Department for more than 21 years. During his tenure, he has worked in a number of assignments including uniform patrol, general crime investigations, and drug investigations for both the Vero Beach and the Multi-Agency Criminal Enforcement Unit.
He currently serves as the department's public information officer, crime prevention officer, and code enforcement officer and oversees a number of programs vital to community relations including Neighborhood Watch, Civilian Volunteer's, RAD Systems and RAD for Kids.
"Receiving the award gave me a great sense of recognition for the effort I have put forth to do my job to the best of my ability, but what is more important is the fact that I really do feel like I am making a difference in people's lives through educating them about crime prevention and showing that the judicial system does work."
Though his general daily duties, skill in conducting polygraphs and natural aptitude for electronics places him in demand within the department and the community, he often assists the patrol division in high profile assignments and the Special Investigative Unit in undercover drug investigations.
He has played a significant role in the successful conclusion of many cases including the apprehension of a serial burglar responsible for committing 16 burglaries in the City of Vero Beach and an undetermined number in the greater Indian River County area.
The value of the property taken was estimated at approximately $10,000. It was Morrison's knowledge of the crimes coupled with his expertise in criminal investigations that enabled him to be at the right place to take into custody a person who would have otherwise continued to offend.
"So many times we are so focused on what is wrong with something, that we fail to realize all that is right," Morrison said. "Thank you again for selecting me for such a prestigious award."
The other nominees included: Martin County Sheriff's Office Detective Carlo Sciandra, Fort Pierce Police Officer Nathaniel Stubley and St. Lucie County Detective Jennifer Waters.
Fort Pierce PAL is a nonprofit organization providing intervention, prevention, and alternative programs to at-risk and economically challenged youth in Fort Pierce. Fort Pierce PAL regularly serves over 350 children and teens every year, thanks to the great volunteers who give of their time and energy.