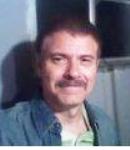 RICHMOND, IND. – A 52-year-old man wanted in connection to a fatal shooting in Indian River County on Saturday was apprehended in Indiana late Sunday night.
The Indian River County Sheriff's Office named Rondell Reed as a suspect in a grand theft case that involved the fatal shooting of Jim's Automotive owner, James Malone.
Homicide charges against Reed are pending the ongoing investigation.
Witnesses told local deputies that Reed was last seen with Malone shortly after noon on Saturday. Authorities discovered Malone's 1993 Corvette was missing and issued a national alert for Reed and the car.
Around 11 p.m. Sunday, April 17, the Richmond Indiana Police Department spotted the stolen Corvette. According to the Sheriff's Office, Reed tried to flee in the vehicle but it crashed and rolled onto its top, pinning him in.
Reed was found in possession of a firearm when authorities extricated him from the Corvette.
Reed faces charges in Richmond as well as the grand theft of a vehicle charge in Indian River County.
The Indian River County Sheriff's Office continues to seek any information from the public pertaining to the fatal shooting at Jim's Automotive from over the weekend. Anyone with information is asked to call Detective Steve Stoll at (772) 978-6119.